:thumb406916385:
Hey look something actually worth looking at...
:thumb406916385:
GROUP FEATURE:


Warriors Guiding Stars is a fun filled group for me. I love the original ideas mixed in with the Warriors series! The art there is always amazing, and Crayorable and the rest were unbelievably nice to me when I first decided to join. I want to thank Cray and everyone for letting me make their memes and give me the opportunity to be in an amazing group like this one. So thank you sooo very much. I'd also like to say that the people here are nice, and it's definitely an honour to be one of their amazing Contributors. I'm always happy to help anyone there, and if there is anything any of you EVER need, please talk to me! I'd love to help you all.

I definitely suggest you this group.

INSPIRATIONS:
Crayorable


Jesus christ, Cray is an absolute goddess at life. Her drawing style is beautiful, and the way she captures depths of simple thing like a breath of wind or a sparkle in water is gorgeous. She absolutely kind, and I just love her all over. :3 (not to mention that she's from Aussie and it makes me feel less lonely about being born in Australia..)
She is a sweet and caring person, not to mention funny, from what I've seen of her. Check her out.

Maiyev


Yev, I love you. Your art is so fabu. You're honestly there for me a lot, and I appreciate that. I used to hate you, I think.. hell if I remember. But her art is delicious! Everyday she impresses me with her skilled anatomy and brush stroke. I love the way she makes things beautiful. She doesn't get as much credit as she deserves, (which sucks. Go watch her, you fools.), and she really does deserve a lot of it. Plus her names either make me laugh or think. Heheheh

no I'm kidding. You should watch her.

FEATURED ART: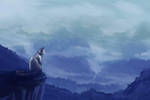 by Crayorable

by Crayorable
--
:thumb378726718: by Maiyev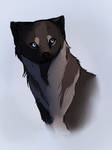 by Maiyev

:thumb406916356:

Welcome to my page, you lovelies :3
---
---

GROUPS:




- Screamingoasis - Warrior - ShatteredClan -
- Dustmask - Warrior - TornClan -

Activity:

Semi-active (Group is barely active, unless I'm just stupid)

---


- Spottedfeather - Blacksmith - Storm Faction -

Activity:

Active

---


(Pending)

Activity:

Inactive

---


Overseer

Activity:


Closed until group is finished.