Project Educate: Fractals-- the results of our community's hard work!

We had a terrific Fractal Week for Project Educate last week. I felt guilty at first that the community had to "do my job for me," as I only had vague plans and ideas with catchy titles, but then I watched as the community spirit poured out and my vague plans and ideas were transformed into something totally awesome and added upon by fantastic ideas I hadn't even thought of!

Did anyone outside of the community learn about our medium? I don't know. I hope so.

Did our community get to know each other better? Yes!

Did beginning fractalists get awesome tips from veteran fractalists? Yes!! Did veterans and beginners and intermediate fractalists alike get to hone their craft? Yes! Did everyone participate? Highly unlikely, really, but the participation was pretty high. I got to know people who have been around as long as I have that I hadn't met before. I was also introduced to community members who were new to dA, both novice and veteran fractalists, which is always a treat. I hope you guys got to know new people and people new to you as well!


Combined Art and Math Class Articles

Project Educate - Fractal Week: Start Fractaling!
by
caffe1neadd1ct
Journal Entry: Fractals
by
davebold370
The F Word Issue #30
by
guagapunyaimel
Incendia Tips and Tricks
by
Aexion
, shared by
DeirdreReynolds
, in the
IncendiaryArt
group blog

Feature Frenzy Articles

Fractal Landscapes & Fractal Scenes (Part-1)
by
LaxmiJayaraj
(also in her journal, here.)
Fractal Landscapes & Fractal Scenes-ll-Manipulated
by
LaxmiJayaraj
(also in her journal, here.)
Project Educate - Fractal Week: Purple feature!
by
caffe1neadd1ct
PE: Fractal Art and Architecture Photography
by
lindelokse

Stunning!
Texture Fields for Fractal Week
by
FarDareisMai
banana-tree's Journal Series, Early Influences, edition #3
by
esintu
PE - DYK : Fractals Are Nature Artworks?
by
SaTaNiA
Evocation - Apo, UF, FE, Incendia, etc !! - My contribution to Project Educate
by
marthig
Fractalicious Rainbow Feature: Oh My Eyes!
by
CoffeeToffeeSquirrel

Brilliant!
Project Educate - Fractal Week: Beautiful flowers!
by
caffe1neadd1ct

Glorious Tutorious ~Live at the #Aposhack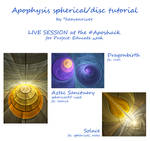 by
heavenriver
~ Apophysis Spherical/Disc Tutorial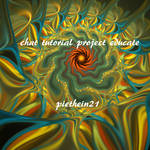 by
piethein21
~Apophysis Gnarls and Linked Transforms
:thumb204655745: by
deadened-glow
~Apophysis Gradient Tutorial
The Squirrel's Flower Tut07:04:22 PM Grrreat, kiddies, are your UF open? Then we are going to start with the default mandelbrot and its corresponding Julias. Almost all of my fractals starts with the switch mode. Pretty basic, but oh, so many lovely possibilities.
07:06:40 PM I prefer to have a black/white gradient for the outside colouring and the inside colouring set to none in transfer function. If you've the default colouring, remove all the nodes in the gradient except from two of them and set them in black and white. It helps you to see the finer shapes in your fractal and the colours won't disturb you.
07:10:13 PM If you have your default mandy ready, then you can use the switch button.
07:16:40 PM Switch button is f7 and click on the mandy and there you'll find the julia
07:18:16 PM Kiddies, find your julia, after that we'll frolic in flowers!!!You find your Outside colour algorithm menu, choose Plug-in colour gradient, go into Colouring algorithm menu, choose Orbit Traps. Th
by
CoffeeToffeeSquirrel
~Ultra Fractal Flower Techniques Tutorial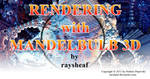 by
raysheaf
~ Hi-Quality Renders (and SO much more!) in Mandelbulb 3D



DD Suggestion Box Temporarily CLOSED!!!



I am
very
behind with the Daily Deviation features.
Especially now that since I put this notice up around April 11th, I have 25 NEW?! suggestions.

I am sitting on about 125 DD suggestions; which means were I to approve each and every one of them, I would have enough for every single day between now and when my term as GM is over, plus extra. Since you guys and I both know that is unlikely, I will probably open suggestions up again at the end of this month or in the beginning/middle of May. SO...go ahead and keep browsing or bookmark or favorite things that you find that you love, just don't note them to me yet, okay? I'm a little swamped right now.... Heck. I'm drowning.

I know some of my suggesters aren't watchers of mine and wouldn't just read this before they noted me, so please be extra sure that if you
have
read this, your notes to me do NOT have DD suggestions in them.