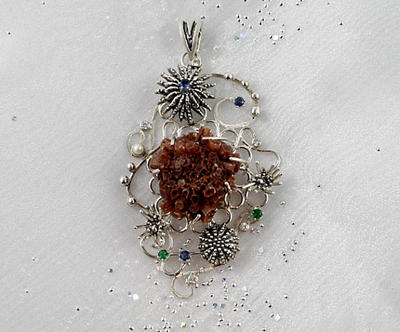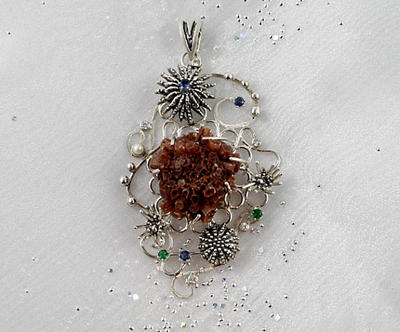 This aragonite pendant is a jewelry piece from my latest collection inspired by my trip to Australia.
It is constructed of sterling silver wire. Little sea creatures (anemone and sea urchin) are cast and soldered on it as well as the little balls and stone settings.
The stone is a rough aragonite 2,5*3cm*1,5cm (7/8''*1 1/8''*1/2'').
Size of the pendant is 7,5cm * 5cm (2 7/8"*1 7/8")
There is also 1 fresh-water pearl (3mm), 5 cubic zirconias (2,5mm) and 2 emerald imitation stones (3mm) and 3 sapphire imitation stones (3mm).
The price of the pendant does not include a silver chain.
Let me know if you would like a chain (and what size) and I will add it for additional charge.
To see more pictures or buy it
click here