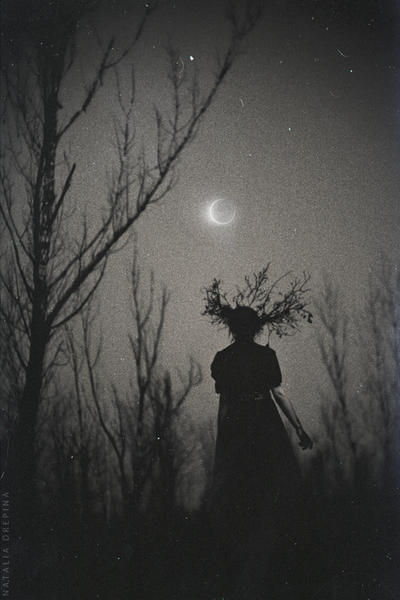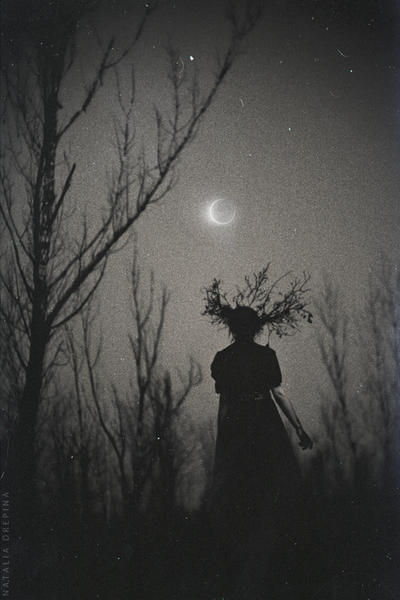 Very great piece, a beautiful tribute to witchcraft and paganism, at least from my point of view. There is a lot of elements of the ancient crafts, the woods, the moon, the black dress, the branches in the head in a adornment that looks like a crown really evoke the image of The Horned God.

The focus on the moon, in center of the image and beign really bright, also calls one of the main elements of this culture, which is the moon as the source of power, magic and mistery. The atmosphere is really great and I can only say I loved this piece.
The Artist thought this was FAIR
14 out of 14 deviants thought this was fair.
In the moonlit darkness, she ventures once more into the barren woods. It's hard to see much, besides the shadowy silhouettes of the trees which never seem to happily bloom, even though it's Spring elsewheres in the world.

As if the place is insularly trapped in melancholy - like her, the happiness has seeped away, only seen in memory's eye.

She's able to make her way to the forest's clearing, having memorised traversing the path like how she used to climb over the mansion's walls, in secret, to the balcony where she can enter his room, and comfort him.

And here in the forest, this is where she once led him, to lay down on the golden leaves in autumn, and stare up at the sky, where the gentleness of time passing granted them a faerytale's peace. A silent intimacy, shared only by the two. Sometimes he'd tell her a silly joke, and other times, it was the subtle trembling of her breath when she looked at him, and wished for the moment where his lips would be touching hers.

He is gone now, pushed away by her, and all that is left is the emptiness, deeply felt when she'd wander to this part, and feel traces of him when she'd run her fingers along the tree's bark, the dry leaves under her feet.

Perhaps as a consolation, nature has given her the crown of oblivion, for her to wear when she waits for him to come. The moon this time weeping along in a lunar eclipse.

(What do I think about the pic? I think it looks nice and evocative, like something you'd find in an old history book.)
The Artist thought this was FAIR
8 out of 8 deviants thought this was fair.