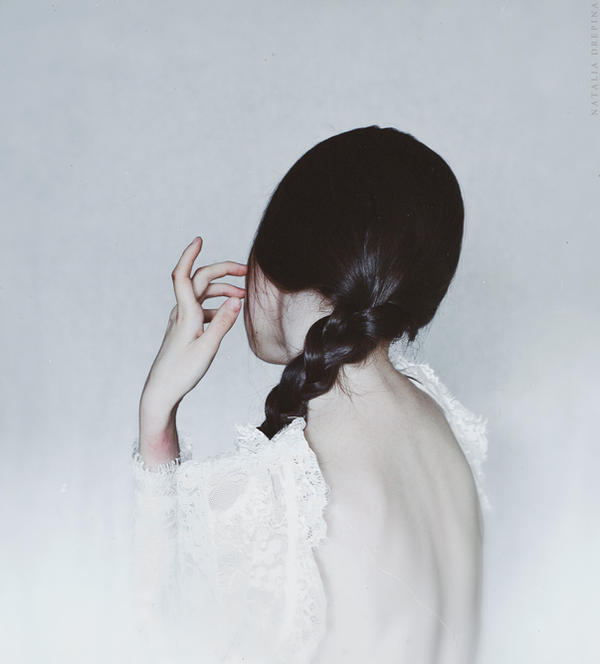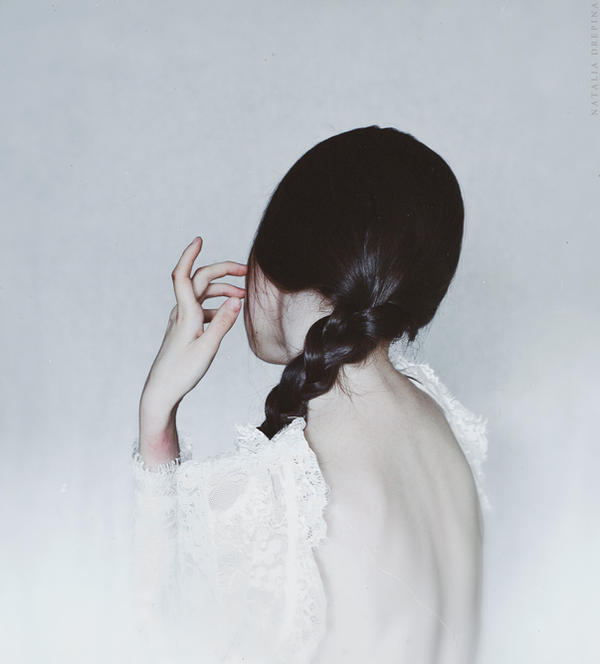 Watch
My first thought about this, was, that she reminds me of those beautiful Russian fairy-tale-princesses.
There was a movie, that was about a girl, that had a bad sister, and bad mother, falling in love with an self centered guy. she got into trouble, nearly died and finally, he saved her and they lived happy ever after.
(short version)

and she had such a dark, long braid. she nearly died, since she was turned into ice, by accident.

that's my impression. reminds me of old times... when i was young.

she has a beautiful, slender neck. bones are showing beneath her skin. so beautiful, showing how fragile she is.
also, her hand. it's like a very poetic, romantic pose.

yet, that reddish bruise doesn't fit to that fairy tale.

it's a beautiful contrast. Surely, fairy tales are for kids.. but many of them hold a deep, not so beautiful and flowery meaning.

so... she's dressed in white.
pure. innocent.
bride.

she turns away, as if hiding her face. does she hide further bruises? does she hide broken eyes? tears?

what she's wearing is so frilly... with lace... so beautiful... is she an angel, with no wings?

Is she a dead princess? too broken to be let into heaven?

does she hide some different nature?

a very interesting picture. very beautiful. it depicts some kind of darkness, in spite of the large amount of white.
and i should praise you for being able to do that.
The Artist thought this was FAIR
5 out of 5 deviants thought this was fair.