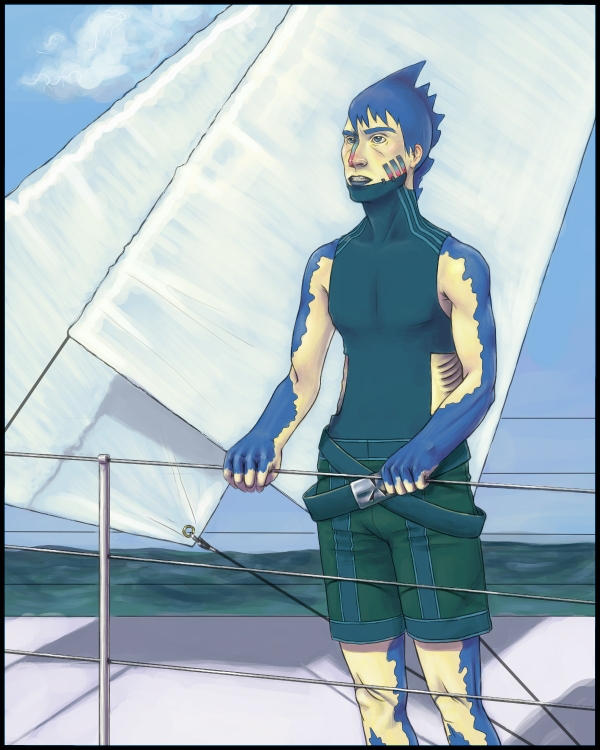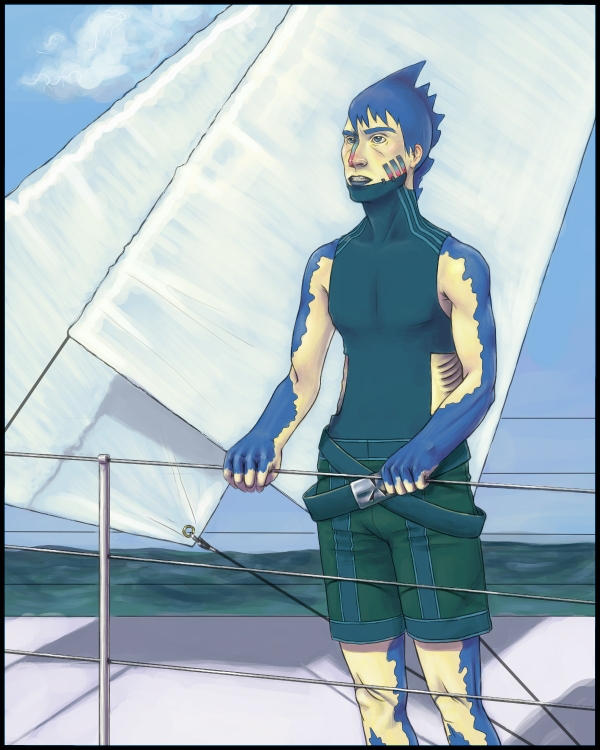 Watch
I don't know
well, but he seems like a stand-up guy, and his shark person design is too neat to be resisted. The deck and railing are wildly out of perspective, but for our purposes, we'll pretend they're not.
Edit: Shoot. Now that I look back at the reference image, I keep seeing things I left out. Sorry about that!

This is amazing - well, I am actually out of words: not only because of the fact that I lack of capacity of using this language, but because I don't know how to express myself about your skills.
You have a lovely way of using colors.
*adores*
Lovely gallery, I have to take a closer look someday soon.

Reply

wow hay i know these guys, and that person in the pic. great job i love the colors and the gills on the sides really look awsome, you have alot of talent and it shows, i too will one day be a great artest like you. you are more then worthy of a

and a watch
Reply

oh my. BEAUTIFUL. that BACKGROUND!! the sails and their shadows and the water .. I didn't recognize this as yours at first I think for the vibrant blue colors--I'm used to such an earthy palette from you.

so your palette bending has some fantastic results. ; 3; that is an excellent character design, I should visit the artist.
Reply

Oh, and those people up there are half of the comic group, heh.
Reply

My god! You've just made my year! Today is the best day of all of 2005 thanks to this (which is saying a lot, since I cut my leg today at work with a box cutter. 4 stitches)!

There are no words to convey how happy you've made me! I'll have to find some artistic way to repay you! <3 <3

The few missing details can easily be overlooked because of how awesome it is overall. Everything from your delicate and beautiful lines, to the muted background colors. I'll have to print this out and put it up in my room, in front of my computer! <3

Also, if you like the shark designs, you're going to love something that my comic group is going to announce officially in a week or so (even though we've been putting up lots of art for it, anyway. *uploads another sharkguy to scraps*)!
Reply

A reaction like that is the only payment I need! Seriously puts a grin on my face. <3 To be hung on a wall. A step up from the 'fridge, I'd say.

I'm glad it turned your frown upside down. Poor leg. I, too, know the treachery of box cutters. I wonder sometimes how I've made it this far with all my fingers intact.

I'm looking forward to this mysterious project. If there are shark people in it, it's bound to be rockin'.
Reply

wow... the coloring is so perfect with the line art. i think this makes everyone happy.
Reply

Thank you very much! I think it's pretty amazing the way you're working together on this mystery project, I'm looking forward to seeing where it goes.
Reply

Toji is indeed a stand-up guy!!

this is inredible fanart! this turned out quite nicely.

great job <333
Reply

Fan art of a G.eh character!? FAAAANNNTASTIC!
Reply

wooow this is incredible <3 I love your stuff, obviously, and yeah your coloring and lines are always just way too pretty.
Reply

Thank you, Ms. Faerie! Everything you praise about my artwork I feel goes doubly for yours. What progression since the early days of Dsauce oekaki!

Also, it took me far too long to figure out that you're from Coeur d'Alene. I'm originally from Spokane! Small world.
Reply