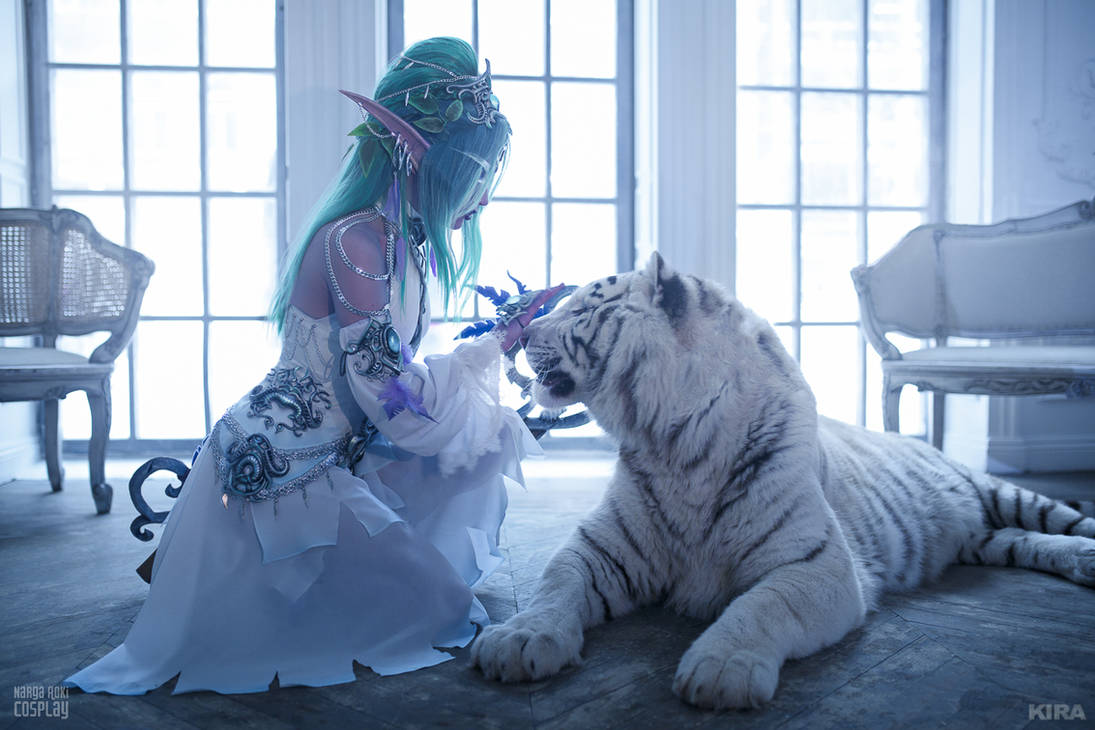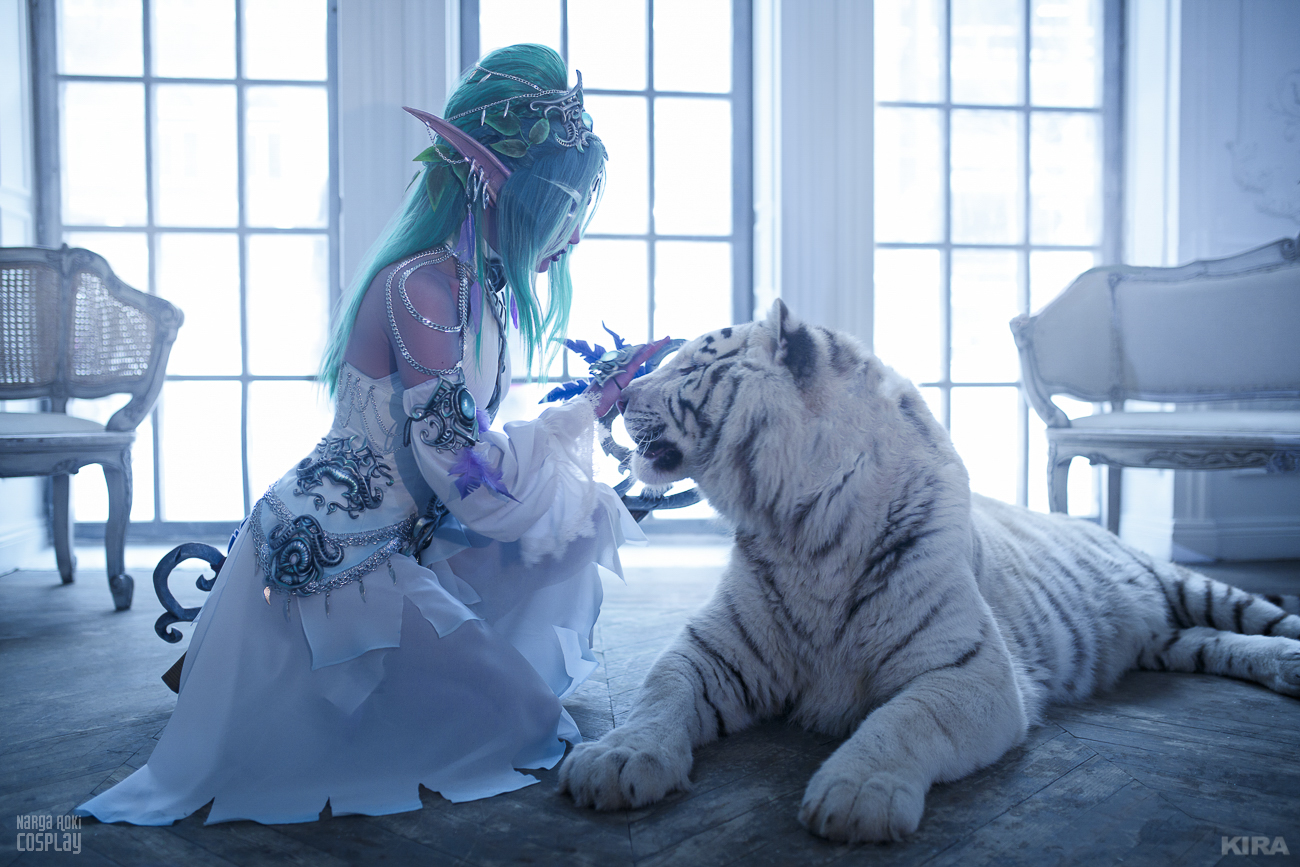 Watch
DO NOT COPY WITHOUT CREDITS. Reposting is allowed provided credits and links. THANK YOU!
Tyrande cosplay, costume, wig, props made by Narga (me).
Photo by
KIRA photoarts
White as Ash'Alah
Assistants: Aoki, Oleg, Feyishe
WATCH Behind the scenes VIDEO
Tiger is real! It's a 3 years old boy named White. So, what is was like? Great! White is absolutely non-aggressive to people or to the other animals but he's very playful, just like a cat. He often tried to play with chairs in the studio or with my bow.
😊
It was a great honor to meet him!
Tiger is NOT on sedatives and he's NOT drugged. White in a very good shape and mood, he have all his teeth and claws, his fur is t
hick and in a very good condition. Just like raising a baby it all depends of upbringing and training, that's why White is calm and gentle to people, he just got used to them. It's really wonderful when an animal is a partner and true part of the family.
Sadly there's no left white tigers in nature but they CAN live with the humans who can give proper care and love. And those animals will give love in return!

❤


check his owner in Instagram www.instagram.com/mihail_tiger… to see full tiger family.
Video about photoshoot is coming soon!
More World of Warcraft cosplays on my
Facebook

Follow me on
Instagram

Follow me
Twitter

Support my cosplay on
Parteon

Check cosplay prints in my
PRINT STORE
Special thanks to my Patrons: Stark, Raven54, C Welch, PTAH, Manuel Erber, Redwing, Denis Pogramkov, Maxim,
Anthony Davalos,
Ishan J, PZK, Aerys80, Dustin Clark,
Victor Manouchehrian, Elixiiie,
Joe torres jr, Peter Murray, Hellwish,

ray cheung, Mike,
Angelaaa Serrano y Gato,
CupcakeFX & Zenyth,
Anna Vorbringer,
Cheburekin1, Nillin,
Kuridel Black,
Mattia Baldini,
Frank S Music,
Apotheosis Cosplay, Pasha Cosplays,
Evgeny Loza,
Julieta Ravencrest, Velator, Lily Sage,
Schoggi Cosplay,
Alastair Christie,
Silvan Elf Cosplay, Christian, David, Nerda, Patrick Schulz, Vladimir,
Cami Cosplayer,
SirCheeseHead,
Moony Dreams,
Remko van Rhijn,
Daniel Greer, lllstar,
Désirée Kroggel, Nina Rao,
Katherine Anders,
matthew stammler,
Zerathustra,
Trowa Barton,
Joseph Kurth,
Katarina Metz,
Bryn Lewis, Onur,
Ebba Englund,
Zach Fischer, Rincewind, hotpink,
Christiane Kneffel, Ryan Fell, Caroline, Sandro Vale,
Kittenteeth Cosplay,
Craig P aka Renallis,
Tara Castanier,
Ivan Skirata,
André, Jen Tate, Danielle, Stephanie Hall, Max Ashton, Kam Legacy, John Liu, John N, Nina Novacaine, Daniela Tilmitt, NebulaNeko cosplay, Temaa, Seleya, Lilia Lemoine, Ola Irman, David Stanley,
Mechanical vampire COSPLAY, Sratar,
Sergei Rigin,
Aldimenda,
Lichmuncher


The owner of this deviation has disabled comments.