3K Favourites
187 Comments
150K Views

Support my cosplay on
Parteon

Buy THIS print in
My Store

Follow me on
Facebook
,
Instagram
and
Twitter

© PLEASE DO NOT COPY WITHOUT CREDITS!
Alexstrasza the Life-Binder, Queen of the Dragons.
World of Warcraft
Photographer -
cxalena
(Gomel', Belarus)
Costume/model - me
Narga-Lifestream
(St.Petersburg, Russia)
Thanks to
Aoki-Lifestream
for help
Alexstrasza's video
Breastplate tutorial (Russian)
Costume tutorial (Russian)
I really enjoyed making this costume. It was a great challenge for me becauce I've never did full cosplay armor before. Whole costume I made and painted myself. Materials: camping mat, linoleum, papier mache, acrylic primer. Horns made out of styrofoam. Claws made out of stoneclay. Gemstones made out of resin. All armor painted by acrylic colors.
more from DA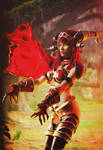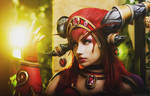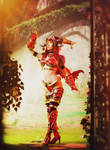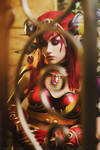 Image details
Image size
688x1000px 262.93 KB
Model
Canon EOS 5D Mark II
Shutter Speed
1/200 second
Date Taken
Jul 4, 2014, 2:04:31 PM