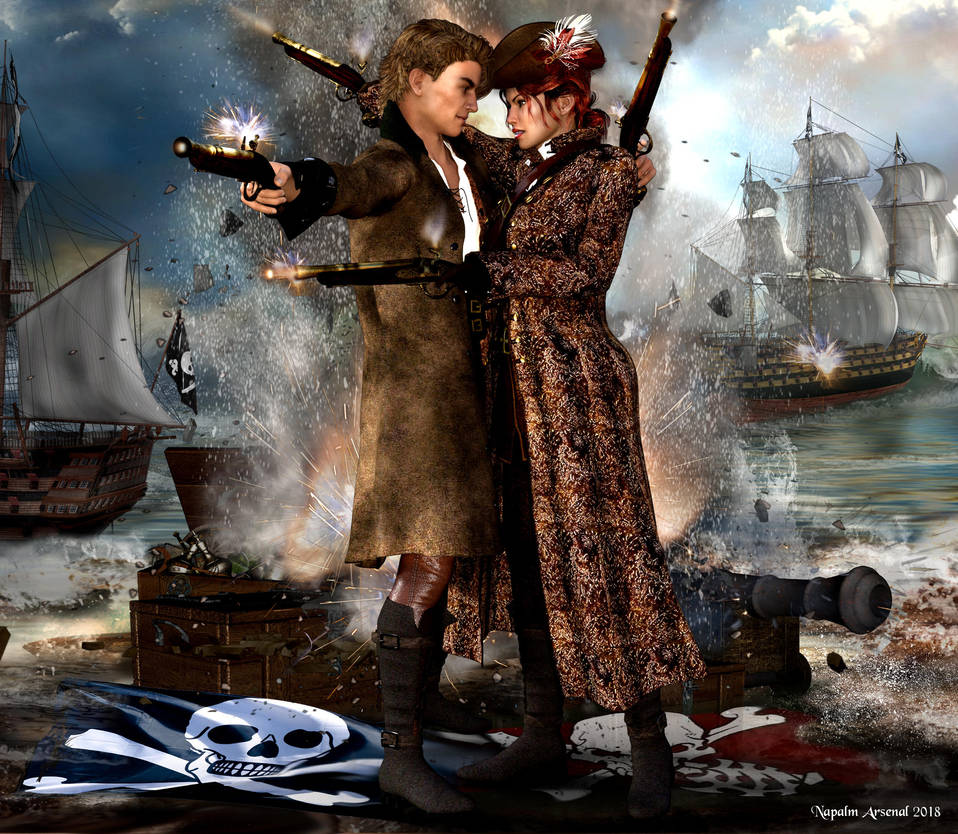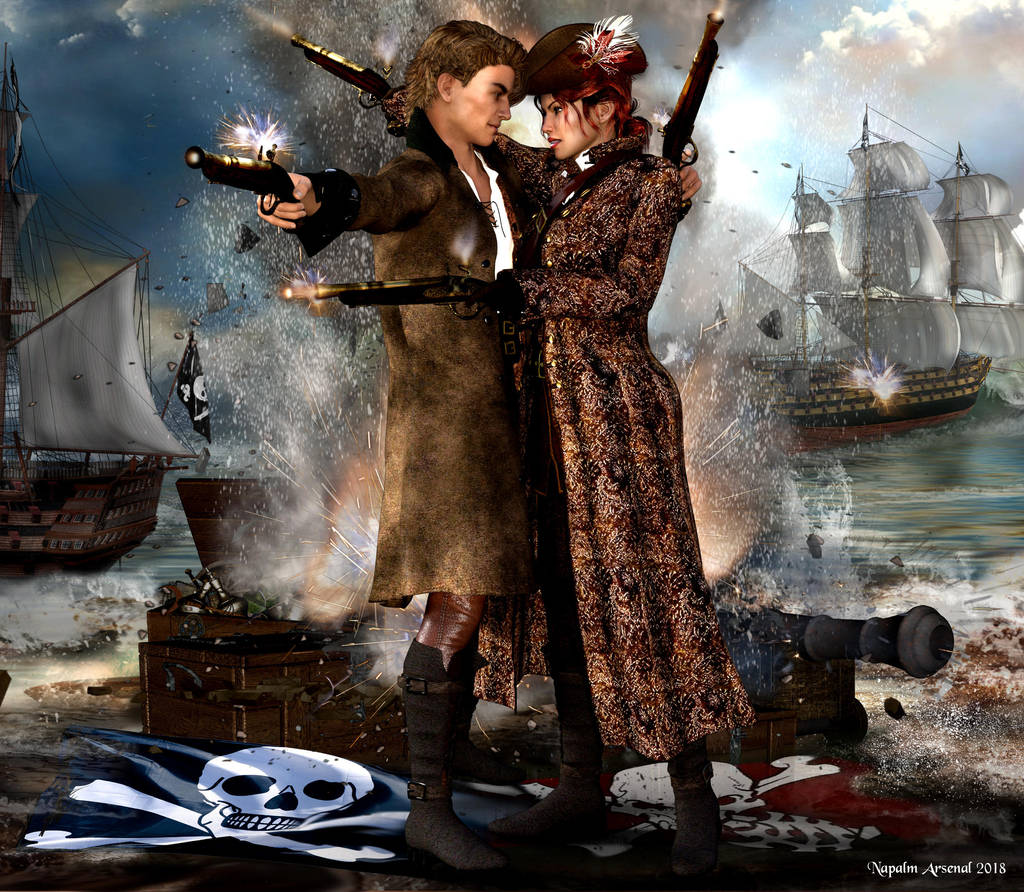 Created with
Aran for M8
Kiera for V7
Pirate for Genesis
V4 Buccaneer
Bonnie Ann's Locker
HMS Victory
Cannon Accessories
Blunderbus and Blunderbus Poses
Ron Diveney's Explosions overlays and Waves Brushes
Flags etc created in Photoshop

No, no, no, it's not time for passion, nor even for romance, here.

At first, they have to find a good shelter to be safe. If they take time to find a right place, I'm sure their patience will be highly rewarded.

That said, it's a wonderful sea environment with very beautiful effects. They also have very nice outfits and I like their love pose.

That's a passionately nice creation.

Reply

Live, die, love, hate........... doesn't really matter sometimes............ people are just a waste of space. Anyone can be expunged and replaced. Maybe they kill each other, maybe one kills the other or vice versa. At least someone has some peace, and dead men tell no tales. As long as, someone has the emotion switch in kill mode, it's all basic.....want, need, hunger, pain, all on auto pilot..... nothing but pleasures of flesh, bone, teeth and claws no guilt no conscience..... Then again, who's the sadist and who's the masochist in the relationship because there is pleasure in the pain.

People lie.... and people believe in false hope and let people murder their hopes, hearts, souls, and dreams and they become a hollow shell of nothing eviscerated from the inside. A breathing body without a soul or purpose. That's basic and animalistic. It's conscience, and guilt that separates humans from animals and with that gone people are no better than dogs. You kick a chained dog long enough and it lashes out in destructive ways and can even mutilate its self. Those people are the most dangerous and scary cutthroats ......... because they don't care what happens to them....... and that makes them capable of anything.... .

Thanks for the comment about the environment and poses!

Isn't that what everyone wants? Respect, honesty, trust, dignity, a love that consumes them, passion, excitement, adventure, and even ........ even... a hint of danger!
Reply

Pure awesomeness, love the duo and all the details just add to it's epicness
Reply

LOL thanks !! I still like your broadside scene with the ships the atmosphere is so well done!!
Reply

Only one captain is missing

Reply

LOL you know the woman is always in control of everything!! We only let the men think they are!! So LOL only one captain!

Although, I suppose it could be a mutiny against the other captain for the lady he loves? Title Changed!
Reply