Many of you who actually pay attention to my work may have seen these three images.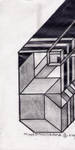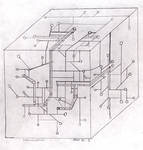 time to reveal a secret about them. This is actually a style of art i took on back in High School. I aptly named it Abstract Geometrism. I thought only in numbers when it came to my art. measurements and numbers. So i thought about translating this though process into a form of art. I soon found a protractor and a ruler. Using those two items plus a pencil i made a very very complex image that took only hours to make. When it was done. It was a very random mess. Eventually i honed the skill and understanding of what i was doing in my mind to translate the images.
I soon discovered later on that by usings a form of intersection weaving in the lines i could create what i called false depth. This false depth evolved into false dimension by making you perceive a 3rd dimension when in fact there is no real depiction of such a trait. This lead to another discovery. When i added varying levels of shading to the image it began to create a new form of design possibilities i could unlock at will.
Basically these 3 images details how far i have become.
The first is Mixed Dimensions
When you look at this image you see a mess of straight lines that have been purposely hardened and made thick like that. even with the shading you can still see the lines. Now following the lines you still to make out shapes. These shpaes then make patterns. these patterns then begin giving the illusion that its 3D. TADA!
next is Confused Reality.
This one is my personal favorite. This was all done by eye using a ruler and a pencil. again using my technique as above you begin to notice strange objects. There are in fact 3 pyramids 1 octahedron 1 cube.
The lines and shading actually help conceal the true purpose of the image. By using shading in places you wouldn't expect your eyes are tricked into looking somewhere else to find the pattern and meaning. But as your eyes start to trace the image out. you begin to notice whats really going on.
last is Interconnectivity
This one was a odd one even to me. I originally wanted to do a image like above but it evolved into a fake 3D cube with the back faces erased so that you only see the front and 2 sides. then using my intersection weaving trick i drawn on the cubes surface varying the angles a bit to make it look more and more chaotic. as the result went on. It evolved into a illusion of the perception of placement in the image. when you look at the cubes faces you think its just lines on a cube but when you follow the random lines you see that the cube has inverted and the lines look like they are flying through it and inside it. this is the effect attained by the Intersection weaving.
Hope this sums up how these images worked and maybe give you some insight on how to do this.
I may post a tutorial to this style of art someday for giggles. ENJOY!