2K Favourites
89 Comments
36K Views
MORE: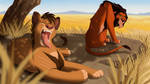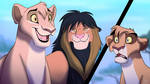 NEXT DRAWING: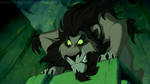 Como ya pude crear el diseño de Nuka adulto, ¡al fin pude traerles este dibujo que quise hacer desde hace tanto tiempo!
¿Qué hubiera pasado si Nuka hubiera sobrevivido a su muerte? Seguramente, al Kovu ya ser el rey junto a Kiara, Nuka, en una de sus oportunidades hubiera tomado el mismo rol que su padre Scar y tratado de asesinar a Kovu. ¿Porqué no retratar esa escena con la misma que marcó nuestras infancias? La escena donde Scar asesina a su hermano Mufasa, en éste caso, Nuka asesina a Kovu, todo por venganza de él jamás haber sido tomado como "el elegido".
Para el dibujo, traté lo más posible que el estilo se pareciera al de la película, pero no todo está a mi alcance xd ... perdonen ese patético fondo... no soy buena con los fondos :'v
___________________
As I already could create the design of adult Nuka, I finally bring you this drawing that I wanted to do for so long!
What if Nuka had survived to his death? Surely, When Kovu to be the king with Kiara, Nuka, in one of its opportunities would have taken the same roll that his father Scar and tried to assassinate Kovu. Why not portray that scene with the same that marked our childhoods? The scene where Scar assassins his brother Mufasa, in this case, Nuka kills Kovu, all for revenge for he has never been taken as "the chosen one".
For the drawing, I tried as much as possible the style would look like the movie, but not everything is within my reach xd ... sorry for that pathetic background ... I'm not good with the backgrounds :'v
Based on the image:
IMAGE DETAILS
Image size
2298x1293px 1.53 MB