MORE: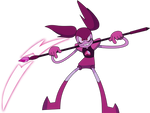 Hice este vector de icónica imagen de la silueta de Spinel dentro de su gema, imagen la cual fue revelada en el primer trailer de la película de Steven Universe.
Para este vector, actualicé el diseño de la gema de Spinel así como el mismo diseño de Spinel.
___________
I made this iconic vector image of Spinel's silhouette inside her gem, an image that was revealed in the first Steven Universe movie trailer.
For this vector, I updated the Spinel gem design as well as the same Spinel design.
Vector that I made because I used it in a Trap Remix of "Other Friends" in my YT

www.youtube.com/watch?v=7mkW35…
Image details
Image size
1832x1768px 629.54 KB