MORE: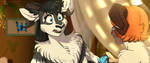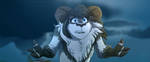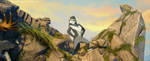 Aquí tenemos una de las escenas más empalagosas de la película en Gender Bend.
Greyzi en su fiesta sorpresa de agradecimiento, está junto a Lyan. Lyan le dice con toda dulzura que jamás había conocido a otra oveja como ella. Greyzi se siente alagada pero entiende la indirecta, a ella no le interesa Lyan. Detrás se encuentra Mozy, la cual estaba a punto de invitar a bailar a Lyan y darle una flor, pero se detuvo a ver la escena.
____________
Here we have one of the most cloying scenes of the film in Gender Bend.
Greyzi in her surprise party of gratitude, she's with Lyan. Lyan tells her with all the sweetness that he had never met another sheep like her. Greyzi feels flattered but understands the hint, she isn't interested in Lyan. Behind is Mozy, who was about to invite Lyan to dance and give him a flower, but stopped to watch the scene.
Image size
2880x1200px 2.86 MB