MORE "Almasi's Kigndom":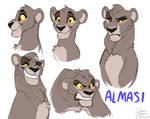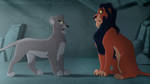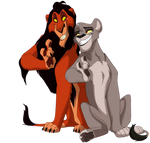 Volviendo a mi AU del Rey Leon "Almasi's Kingdom" quise traerles un dibujo de cómo es que viven la generación descendiente de Scar, años después de que él haya muerto y dejado las praderas custodiadas por Almasi, su hija preferida.
Ya que las praderas le pertenecen a Almasi desde que Scar murió en aquél incendio, Almasi ha custodiado con exito el reino, recordando con honor a su padrastro Scar, aunque ha regido el reino con la misma garra que su padre, también ha tratado de no caer en los mismos errores que él. Cuando Scar era rey, Almasi sabía que su error al mandato era el consumir todo al punto de no tener comida ni agua en las Praderas. Ahora, en su reinado, Almasi rige con la misma garra dura e insensible, pero administrando mejor la comida y agua, así para tener "Un buen ciclo de la vida" algo que ella admite cuidar con odio. Es mala pero no es tonta.
En cuanto a sus hermanastros y demás descendencia de Scar, viven como los príncipes que son, bajo el cuidado de la manada y de Almasi. Ya que ellos fueron importantes para Scar, Almasi los considera sus hermanos de sangre y protege de los demás.
En este reinado, como no falta la comida ni el agua, están fuertes y sanos, son felices y como les han enseñado son fieles a seguir las huellas de Scar.
Personajes:
Almasi
Nuka
Kovu
Vitani
Mheetu
____________________
Return to my AU of the Lion King "Almasi's Kingdom" I wanted to bring you a picture of how the descendant generation of Scar living, years after he died and left the Pridelands guarded by Almasi, his favorite daughter.
Since the Pridelands belong to Almasi since Scar died in that fire, Almasi has successfully guarded the kingdom, remembering with honor his stepfather Scar, although she has ruled the kingdom with the same paw that his father, has also tried not to fall into the same mistakes as him. When Scar was king, Almasi knew that his mistake to the mandate was to consume everything to the point of not having food or water in the Pridelands. Now, in her reign, Almasi rules with the same hard and insensitive paw, but managing food and water better, so as to have "A good cycle of life" something she admits to taking care of with hatred. She's bad but isn't stupid.
As for her stepbrothers and other descendants of Scar, they live like the princes and princesses they are, under the care of the pack and Almasi. Since they were important to Scar, Almasi considers them her blood brothers and protects them from others.
In this reign, as there is no lack of food or water, they are strong and healthy, they are happy and as they have been taught they are faithful to follow the footsteps of Scar.
Characters:
Almasi
Nuka
Kovu
Vitani
Mheetu
SUPPORT ME:
www.patreon.com/NamyGaga
Image details
Image size
3840x2160px 4.95 MB