PREVIOUS:
NEXT: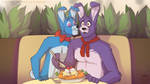 * Cuarto dibujo de la serie de dibujos del mes del amor *


Tarde... lo sé...
Para este año, quise probar con algo diferente para este mes, y se me ocurrió hacer una serie de dibujos dónde se muestre el momento exacto en que un individuo de los shippings más relevantes de mi AU se le declaró al otro.
Hablemos del Fangle.


Foxy y Lisa (Mangle) se han tirado la onda dese varios años atrás, pero nunca se declararon en sí. Foxy es un chico de personalidad al estilo de los 50's, caballeroso, varonil, rudo, outfit de cuero, ect. Así que siempre invitaba a salir a Lisa a pasear en su motocicleta. Esta vez, decició llevarla a una cafetería, y ahí le preguntaría a Lisa si quería ser su pareja.

Tal vez suene a escena cliché de película de los 50's, pero sí, tal cual como lo piensan, sucedió. Ambos se sentaron en un mismo lado de una mesa, y pidieron pay de moras con malteadas de fresa. En medio de una conversación, Foxy dió el paso

Foxy: Lisa, ya van varios años que paseamos juntos, y debo decir que he disfrutado por mucho cada momento que he pasado contigo pero, quiero disfrutarlo aún más.
Lisa: Oh dios, Foxy, espero que no estés jugando conmigo... sabes que tengo muy mala suerte y no desearía que me hagas una broma así...
Foxy: *Risas* No, no, te alegrará saber que no es una broma... En realidad, en serio quiero pasar al siguiente nivel contigo... Lisa, ¿te gustaría ser mi novia?
Lisa: Dios... ¿Ser tu novia para pasar más tiempo contigo? ¿Para cada vez que nos veamos, pueda darte un beso en tus tiernos labios? ¿Para que podamos ver películas en nuestros hogares mientras nos acostamos juntos en la cama o el sillón? ¿Para que me cuides y defiendas cuando un golpe de mala suerte me llegue?
Foxy: Ser mi novia para eso e incluso más... ¿qué dices?
Lisa: Dios, ¡claro que si! He estado esperando este día desde hace tiempo... prometo que no dejaré que ni mi mala suerte me aleje de ti nunca.


EDIT:
Logré reparar con gracia la mano de Foxy. Mientras hacía el dibujo nunca se me pasó por lamente que él tiene un garfio en lugar de una mano... meper d0nan?
_______________
* Fourth drawing of the series of drawings of the month of love *
Late... I know...
For this year, I wanted to try something different for this month, and it occurred to me to make a series of drawings showing the exact moment in which an individual of the most relevant shippings of my AU was declared to the other.
Let's talk about the Fangle.
Foxy and Lisa (Mangle) They both have flirted several years ago, but never declared themselves. Foxy is a boy of personality in the style of the 50's, chivalrous, manly, rude, leather outfit, ect. So he always invited Lisa out for a ride on his motorcycle. This time, he decided to take her to a diner, and there he would ask Lisa if she wanted to be his girlfriend.Maybe it sounds like a 50s film cliche, but yes, as you think, it happened. They both sat on the same side of a table, and asked for blackberry pie with strawberry milkshakes. In the middle of a conversation, Foxy took the step
Foxy:
Lisa, it's been several years since we've been together, and I must say that I've enjoyed every single moment I've had with you, but I want to enjoy it even more.
Lisa:
Oh gosh, Foxy, I hope you're not playing with me... you know I'm very unlucky and I would not want you to make me a joke like that...
Foxy:
*Laughs* No, no, you'll be glad to know it's not a joke... Actually, I really want to move on to the next level with you... Lisa, would you like to be my girlfriend?
Lisa:
Gosh ... To be your girlfriend to spend more time with you? For each time we see each other, can I kiss you on your tender lips? So that we can see movies in our homes while we lie down together in bed or on the couch? So that you take care of me and defend me when a stroke of bad luck arrives to me?
Foxy:
Being my girlfriend for that and even more... what do you say?
Lisa:
God, of course! I've been waiting for this day for a long time... I promise that I will not let even my bad luck keep me away from you.
EDIT:
I managed to repair Foxy's hand with grace. While doing the drawing it never occurred to me that he has a hook instead of a hand ... you forgive me xd?
WHAT IS FNAFNG? HERE
Scott Cawthon © Namy Gaga © FNAFNG ©


SUPPORT ME:
www.patreon.com/NamyGaga
Image details
Image size
3840x2160px 10.72 MB