FIFTH PIZZERIA: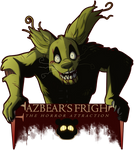 NEXT: ?
Les traigo el logo oficial de la sexta pizzería de FNAF, "Pizzeria Simulator" dentro de mi
fancanon FNAFNG
.
Ya que mi fancanon es la historia completa de FNAF, editada de algunos puntos para darle mi propio estilo, he decidido dibujar los logos de cada pizzería del juego, basándome en los originales.
DATOS:

- En este logo podemos ver a los cuatro trabajadores principales del simulador de pizzerías, los Rockstar Freddies.
- En esta pizzería existen muchos otros trabajadores y atracciones secundarios, como Lefty, Funtime Chica, Security Puppet, etc.
- Esta pizzería fue abierta por Henry con ayuda de Mike. Fue creada únicamente para vengarse de quién en el pasado asesinó a la hija de Henry y también para la liberación de todas las almas porfanadas por Shadow, cosa que Mike busca.
- En esta pizzería es donde finalmente y juntos Marionette, Spirngtrap, el gang de Freddy y Brenda acaban con Shadow Bonnie de una vez por todas.
- El logo está completamente basado en uno ya existente.
________________
I bring you the official logo of the sixth FNAF pizzeria, "Pizzeria Simulator" inside my
fancanon FNAFNG
.
Since my fancanon is the complete story of FNAF, edited from some points to give it my own style, I have decided to draw the logos of each pizzeria of the game, based on the originals.

DATA:
- In this logo we can see the four main workers of the pizzeria simulator, the Rockstar Freddies.
- In this pizzeria there are many other workers and secondary attractions, such as Lefty, Funtime Chica, Security Puppet, etc.
- This pizzeria was opened by Henry with help from Mike. It was created solely to avenge who in the past murdered Henry's daughter and also for the liberation of all souls stung by Shadow, which Mike seeks.
- In this pizzeria is where finally and together Marionette, Spirngtrap, the gang of Freddy and Brenda finish with Shadow Bonnie once and for all.
- The logo is completely based on an existing one.
Scott Cawthon © Namy Gaga © FNAFNG ©


SUPPORT ME:
www.patreon.com/NamyGaga
BASED ON: