2K Favourites
821 Comments
68K Views
MORE: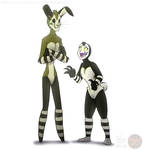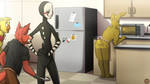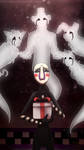 POR PETICIÓN DE LA MAYORÍA DE LOS FANS
, Paradigma y Enigma ya son personajes canon dentro de mi AU. Son hijos de Marionette y Springtrap.
En un principio estos dos personajes no iban a ser canon, pero los fans pidieron a gritos que los hiciera canon dentro de mi AU. De cualquier manera, como a mi parecer es super extraño que una Marioneta orgánica y un conejo humanoide semi muerto tengan hijos, Paradigma y Enigma sí son canon, PERO, dentro del AU, su aparición será mínima, así para evitar que ellos alteren algo del timeline importante.
Este dibujo es de cuando ellos son bebés. Ya que ambos son del mismo nacimiento, se podría decir que son "gemelos", pero como comparten genes anthro animales, sus apariencias son distintas.
Para este momento, Springtrap (William dentro de Springbonnie) apenas está entrando en la putrefacción, aunque se ha conservado muy bien. Marionette está entrando en los 40 :'o

*Esto ocurriría algunos años después de FNAF 1
________________
BY REQUEST OF MOST FANS
, Paradigma and Enigma are canon characters in my AU. The're children of Marionette and Springtrap.
At first these two characters weren't going to be canon, but the fans cried for them to make them canon inside my AU. Anyway, as it seems to me it's super strange that an organic puppet and a semi-humanoid dead rabbit have children, Paradigma and Enigma are canon, BUT, inside the AU, their appearance will be minimal, so as to prevent them from altered the timeline important.
Here they are babies. Since both are from the same birth, one could say that they are "twins", but as both have anthro animal genes, their appearances are different.
By this time, Springtrap (William inside Springbonnie) is just getting into rot, although he has preserved very well. Marionette is entering on the 40s years old :'o

*This would happen some years after FNAF 1

______________





Puede que algunos se sientan asqueados o apenados con la idea de que dentro de mi AU Marionette y Springtrap sean pareja y tengan hijos. Pero no por eso deben criticar DESTRUCTIVAMENTE la idea. Recuerden que éste es un AU. Las cosas dentro de éste AU, no funcionan igual que en el juego. Puede que para ti sea cringe, pero para mí, no lo es.
Some people may feel disgusted or saddened by the idea of in my AU Marionette and Springtrap be a couble and have children. But that isn't the reason why you should criticize DESTRUCTIVELY the idea. Remember that this is an AU. Things inside this AU, don't work the same as in the game. It may be cringe for you, but for me, it isn't.
WHAT IS FNAFNG? HERE
Scott Cawthon © Namy Gaga © FNAFNG ©


SUPPORT ME:
www.patreon.com/NamyGaga
IMAGE DETAILS
Image size
2880x1620px 3.29 MB