MORE: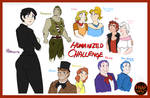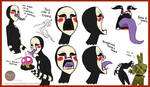 CABESHOOOOOOOO SUELTOOOOOOOOOOOOOO!

Primera plantilla actualizada de personajes femeninas de FNAFNG que durante el timeline del AU siempre aparecen con cabello recogido. Aquí ahora las muestro con su look de cabello suelto.

Por lo pronto tenemos a:
-Roselle (Ballora)
-Brenda (Circus Baby)
-Brenda adulta
-Marianna
-Marionette Humana (Esta está acá sólo de broma, es muy bello su diseño y deseaba dibujar más de ella)
____________


HAAAAAAAAAAAAIR DAAAAAAAAAAAUUUUUUUN!


First updated sheet of female characters of FNAFNG that during the timeline of the AU always appear with hair tied. Here now I show them with their hair down look.
For now we have a:
-Roselle (Ballora)
-Brenda (Circus Baby)
-Brenda adult
-Marianna
-Human Marionette (She's here for just a joke, her design is very beautiful and I wanted to draw more of her)
Scott Cawthon © Namy Gaga © FNAFNG ©


SUPPORT ME!:
www.patreon.com/NamyGaga