[water inflation, room-filling]
Wherein Dana OBLITERATES the entire Super Smash Brothers Melee For The Nintendo Gamecube playerbase.
This was a trade with
TheKairii27
, who also drew the background picture. Check out his half here: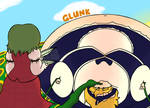 Subscribe to my Patreon @ patreon.com/swellreads
to receive access to character polls, WIP content, and commission discounts.
Image details
Image size
640x360px 79.52 MB