Collab/art trade with @
secretgoombaman12345
, wherein some punk-ass dinosaur becomes "the big" as we in the business call it. Full pic here: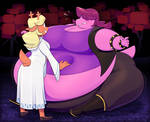 (Commissions remain in progress and are being worked on, expect the first of those to be uploaded sooner rather than later.)
Subscribe to my Patreon @ patreon.com/swellreads
to receive access to character polls, WIP content, and commission discounts.
Image details
Image size
1280x720px 84.56 MB