Hy folks
Project AWW got nominated for
TheDeviantAwards
and did win as best community project

August Winners TheDeviantAwards
---
Here you will find a complilation about Project Angels without wings short AWW
About how to suggest Angels, and to whom, who are the Gangstas of Love who kindly and helpful feature the awarded Angels week by week. , the icons of all allready awarded Angels and whatelse you want to know

I've updated this journal on March 20th to latest Angels and Gangstas of Love and will update further with the complete Angels list with texts.
And feel free to spread the word in any way

the more will know, the more angels we will find and see! Oh and if you like the idea than fave the according
news article
that will help to spread the word too!
If you feature this project in your journal please let me know prior to doing so thank you!
---
who are Angel without Wings?
who are Angel without Wings? That are those fellow deviants:

who more or less regularly feature other deviants

who allways willingly give tips, hints, helpful comments

who answer at least a fair amount of the comments they get

who give kind and or uplifting words where they see its needed

who feature and pimp projects and deviants who need support/help

who take the time to suggest DD's on a more or less regular base

or what else helpful, kind, supporting they might do/have done



I wanted and still want, that those people who do such a lot for the community,
who make dA the great place it is, get the well deserved attention for all their kindness and help.
Thats why I want that this Project gets big, I mean really BIG, so we find more of those Angels, and those awarded get the recognition and attention they deserve so much.
---
Till March each week and since than every two weeks 3 deviants will be awarded with a pair of wings and get featured by me and my fellow
Gangstas of love
(in alphabetical order):
featuring all Angels but not weekly:former Gangstas of Love:
Adi-Emus
AmberCrystalElf
Amersill
AranwA-Tari
ChloeClik
CozyComfyCouch
DameOdessa
DAnnsCreations
druideye
FaMz
fluffyvolkswagen
K-lenx
leocbrito
lostknightkg
David-A-Wagner
miamsm
MountainShots
Pjharps
Roji-Hachi
shell4art
Silver-Dew-Drop
StamatisGR
TinasArtwork
sunflowervlg
TerrorCookie
The-Elven-Priestess
TThealer56
undyingangel
VelcrowEriol
vivalamonica
ProdromosK
Wimley
WitchiArt
yamiyalo
Zorala86
As you might find out several of my gangstas of Love are awarded Angels themselves

Most of them where awarded first and than decided to join in because they loved the project and the award, and decided to spread even more happiness than they allready do

---
Do you know such Angel without Wings, well then help them to get a pair of wings and suggest them to me

or to

,

&



If you want to suggest please be so kind to write AWW in the subject of the note and explain why the suggested person does deserve the award. And please one suggestion per note only!

If you suggest have a look if the nominees good deeds are visible for everyone visiting that page!! I do appreciate if friends are suggested, but think a second about the point, if others who dont know that deviant, clearly can see why the person deserves the award.
---
Now here are the Angels without Wings who where awarded
from the beginning till Mid March 2009:
2008:
1)

,

,

2)

,

,

3)

,

,

4)

,

,

5)

,

,

6)

,
,

2009:
7)

,

,

8)

,

,

9)

,

,

10)

,

,

(now

)
11)

,

,

12)

,

,

13)

,

, and an
Angel Incognito who doesnt want to be named in public
14)

,

,

15)

,

,

16)

,

,

17)

,
,

Just go to their pages and give them some

and spoil them!!

---
Full text:
13.11.2008
David-A-Wagner
David, who was suggested unisono, is a very caring & friendly guy, who is not only a good photographer, but who regularly does features, who always has a friendly word & who answers comments. Before he lost his job, he gifted many submissions to friends and as prizes for contests. Plus he often dedicates photos for friends & watchers birthdays.
Eruwyn
was chosen by me. Anna is a very kind & friendly lady and does some really lovely flowerphotos. She has always kind words for her friends & watchers, and is the first to give some uplifting words when she sees its needed. She features fellow deviants on a regular base and is grateful for the smallest kind word you have for her.
FireflyPhotosAust
was suggested by Wim. Malcom is a nice Australian guy and excellent photographer. He too gives regular big features for his friends and watchers. He always answers to comments and is a humorous guy with a spleen for hats and strange plz icons namely those with wobbly boobs

.
20.11.2008
CSnyder
by
RebeccaFrank
and
mimose-stock
He always has kind words and constructive comments, uplifting words for everyone he gets in contact with. He does regular features and holds contests and features fellow deviant's contests. But least and surely not last, he is a great artist!
mustingel
by
Wimley
,
Nameda
and
nickgmonster
Kristi surely is a helpful and lovely person. She has kind words for everyone, leaves often comments, features fellow deviants on a regular base, throws in her russian language when needed, for example in case of art-thievery. and she's the first to shout here when someone needs help. Plus she does some fantastic flower photography and makes wonderful flower manips!
kkart
by
Wimley
,
Nameda
and
elolitta
John, before being APN GD, has always been the most supportive, sharing his knowledge as outstanding photographer around here. He sure deserves this award for his incessant years of support and kind words, and building critiques. A great colorado guy that makes this community a real "family"!!
27.11.2008
leocbrito
by
Nameda
,
Wimley
Leandro is a sweet guy who features regularly, runs regular contests, runs a wonderful club, features winners from other contests answers all comments and that must be loads, and often comments. Despite his young age he is very mature and allready an amazingly talented photographer. And he just had birthday so what better time to present him with the award!
sunflowervlg
by
Nameda
,
Wimley
&
AndromedaII
Vicki is just the sweetest person you may imagine. Featuring fellow deviants regularly, making stamps for others, commenting a lot, answering each single message she gets, and allways ready to give a helping hand where needed and give you a hug and cheer up when you are down. And she is a talented photographer who has developed a lot within the last month'
nellis-eketorp
by :
Lilyas
Nell is a wonderful lady and very wise and she doesnt hesitate to speak what she thinks. Shes allways willing to give tips and hints and useful critique. She features fellow deviants and answers most comments. She is loyal to her friends and to dA as shes here allready 6+ years! And last but not least she is an amazing artist.
04.12.2008
hellfirediva
by
Nameda
,
Wimley
&
venaya
Kristina plays games, makes regular contests, gives lots of features and gifts subs and tries to reply all her inbox which is quite a feat. If she can help a friend, she will do so. As well she was GD for APN & Macro for a long time. She has a good sense of humour and not to forget that she is a highly talented photographer! So hellfirediva gives a lot to make this community the great place it is.
davincipoppalag
by
Nameda
Dave is this kind of guy who is a true friend indeed. If he can help he will do so without hesitation. He comments and faves a lot and as he is a busy guy on dA you see his icon popping up in many many galleries, commenting, faving, cheering up folks, and he too answers everything he gets, and has nice words for everyone. Plus he loves to joke arround and can laugh on himself too. He too is one of those people who make dA this enjoyable place.
:
Docali
by
nidhi-rathish
Svetlana is said to be a sweetheart and to be supportive to her friends and watchers. She features on a regular base and makes CSS designs for her friends and even free CSS Designs. She answers most of her comments and enters many contest.
11.12.2008
LadyAliceofOz
by
Adi-Emus
&
Nameda
Alice makes comments in pleasant and profesional way, she gives nice advices, features others and makes & supports competitions with valuable prizes: Sometimes she even spices her journals with something to make others smile.
FireOpal14
by
Nameda
Rhonda features many fellow deviants and shows grateful of gifts. She answers all comments and thanks for every fave. She jokes arround with her fellow deviants and tries to cheer up where needed. Plus she clearly shows that even someone who hasnt huge pvs can be an a sweet person and care about fellow deviants.
:devmadfairy7 by
Steph1254
&
traumtaenzer
She does a lot of feature, takes the time to answer most comment she gets and always seems to have time to offer some kind words. She comments a lot too and she is always there for anyone who needs her. Plus she has a very weird humour as you can see on her daily videos
18.12.2008
HellAngelBaby
, suggested by :
Ingelore
"Paprica"
She has a project "Best kept secret". His is a weekly group feature for very talented deviants who have less than 5K page views. Her journal is full of support to other deviants too. And she has stunning portraits in her gallery. Go check on her page!
FaMz
, suggested by
Wimley
Faheema is a lovely, always friendly and caring girl from idyllic Barbados, with some more "exotic" roots, which makes her probably making such inspiring fantastic photography. She's currently GD for Conceptual photography Gallery. A well deserved position for someone that from the moment I know her always supported everyone, always commented with building critiques and features a lot of deviants that she thinks deserve it. And her knowledge about photography/design, she's an art student, she shares with everyone that asks for advice.
Corvidae65
, suggested by
Manwathiell
John is a fantastic guy. He helps everyone, anytime. Always giving advice, helping out, friendly. He told me once that he was placed on this earth to serve. I wish I could write better in English to express what a beautiful person he is, how many friends he has that think alike, and how many times I have read comments from him towards other people. Since I entered DA, he has been my guarding angel, helping out to get to know my camera, guiding me on what to use, what shutter speed is, how to properly use the openings... He's an angel for sure!
08.01.2009
1.
seraphRo
by
Wimley
&
undyingangel
Bogdan is a student from Romania. For some he might look like a viking (

), but in fact he's a real teddy bear. Always there for everyone with advice, helping out with designs and editing, comments, features, and most of all... for some here he became a real friend with who you can talk about everything. Great guy and an angel on earth forever! And above this, a great artist and photographer. Check out his great gallery and give him a big hug!
2.
Dieffi
by
Nameda
&
Wimley
&
Adi-Emus
Wolfgang is a wonderful, friendly, caring man from Germany, with a wonderful taste to catch wonderful moments in nature. Always looking for something new to discover, and share with us. But he shares more than only his photography. He's a very supportive member of many club, always there with a friendly word. His page is full of features for others, and he's always there with a thank you, and a word of concern if he knows you need it... a real "father" angel to many of us here!
3.
TThealer56
by
Nameda
&
Adi-Emus
After having awarded his wife
LadyAliceofOz
it's time to award Bob too. Together they organize contests with lots of marvellous prizes. Bob also features a lot, and is always there with comments and advice for everyone that asks him. Always looking for new challenges, and there with advice and constructive comments. And most of all, everyone is welcome, whatever background, religion, politics, as long as there's no hate involved. Wonderful point of view from a real angel!
15.01.2009
1.
positively
suggested by
Wimley
Agnieszka is a 16-year old Polish girl from Wroclaw, but oohh so mature! And as her nickname here says it all, POSITIVE always and in everything she does. Always positive to her friends here with favs, features, friendly words, DD suggestions. Sharing everything she knows about photography by now, and believe me, that's a lot! A perfect angelic daughter/sis for a lot of us here. I'm sure

2.
DigitalPhenom
suggested by
Lilyas
Steve is a great artist thet shares his knowledge with a lot of tutorials, and advice for everyone that asks. He was a Gallery Director before, and made tons of people happy with DD's. His journals are always full of features for others and he offers lots of freebies like Wallpapers and CSS
3.
TeaPhotography
suggested by
Nameda
This is a lady who's language is LOVE. Look at her journals and you know what I mean. She always answers everything and very often with her wonderful sense of humour and for sure always with uplifting words when she sees you need it. And on top she features loads in each single journal. A real sweetheart angel for sure!
22.01.2009
1.
Adi-Emus
suggested by
Nameda
Adam is a kind guy who features regularly in his journals, leaves very kind and often helpful comments. He is there when someone needs him, and supports unknown deviants and helps them to get some more attention. He is there when a friend is in need. He also regularly suggests new Angels, as only true Angels would do and from this week on he is also a brand new Gangster of Love.
2.
azieser
suggested by
vivalamonica
Allan really means a lot for many deviants here, and not only because of his always nice words, but also by donating subscriptions. He will help you in any way and is always there to cheer you up. He dedicates his whole day to dA by commenting and faving loads. He will never put anybody down, he cares for all his friends equally. And that is what's making him a true angel, respected by everyone.
3.
CozyComfyCouch
suggested by
VictorianPrincess
Maria is a wonderful, friendly and caring person. She answers most of her comments and thanks for their faves. She is always there for anyone who needs help despite her hard familial situation. She always offer kind words to everyone and supports her friends and watchers by faving a lot. She regularly does journal and news features and she does interviews with other deviants to introduce their art to others.
29.01.2009
1.
dandelgrosso
suggested by
Nameda
"Daniele is a fantastic nature photographer, specialized in macro shots, and is now the Gallery Director for this category. Which means that he shares more than ever before all of his knowledge with all of us that are interested and have questions. He also provides us with links to useful tutorials to get started, and is always there with features for those that he thinks that deserve some more exposure. Also he is always there with a thank you, a nice comment, and with useful critiques on your deviations. He is a great guy, and for sure having the right spirit to keep this an ART site, without forgetting about the important community and friendship part."
2.
Luke-ro
suggested by
Wimley
Luca is a great artist himself, but more than that... He's quite famous for his regular "Hidden Talent Features" (# 68 out now !!). He supports all artists, and mostly those that are really good, but are a bit forgotten by, or new to our community. He gives them the features they deserve to gain some more visitors and friends. He also provides us in his journal with useful links to important articles and journals that concern all of us here. An angel for sure...
3.
Lauraest
suggested by
FireOpal14
"She is always very helpful. Her journal is full of ongoing contests, she makes stamps and avatars for people who need them or ask her. She usually features random deviants most weeks in her journal. If she hears about someone who has had an accident or needs help or support of any kind she sends out a new journal featuring them. She is such a caring, supportive, thoughtful person and really deserves this award."
05.02.2009
1.
Lilyas
suggested by
Nameda
Lily is an exceptional deviant. She features people not only in her journal, but occasionally puts art of fellow deviants into her gallery and uses her popularity the way that the featured artists gets tons of attention through this gallery feature. Beside her own brilliant art, she offers stock, free CSS designs and is allways there with kind words and valuable tips on your artworks to help you to get a better artist!! And as if that wouldnt be enough already she holds chats and runs the
Top Artist Directory
, where absolutely amazing artists are listed, well known prized artists side by side with yet hidden jewels. She truly is an angel who does contribute a lot to this community!
2.
lostknightkg
suggested by
WildWinyan
Kris is a very active member on DA and even when he is too busy with life he still stops in to make features which he does weekly. He is also a big supporter of so many artists. In one section of his journal he promotes new members where he thinks they are promising and he tries to get them as much attention as he can. He is known to give tips to fellow deviants, and guide those artwise who are still learning.
3.
photonig
suggested by
viva100
and
Wimley
Nigel is probably the most controverted guy on dA at the moment, flooding us with his sometimes ridiculous, old-fashion, or just rude humour, like a real old-fart English gentleman only can. But... most of all, and people that know him better know very well, behind that "fašade", hides a very caring, sensitive, helpful, sharing knowledge guy. And above this, he recently started his fantastic
The Knowledge
project, where artists around dA can share their knowledge about all kinds of art. Go take a look at his page, have a good laugh, and discover a sarcastic, cynical, but for sure a caring, sensitive angel that makes this site a place to share LIFE (art, happiness, humour, but also bad moments).
12.02.2009
1.
yamiyalo
suggested by
hellfirediva
Kirk is what they call the "background" guy that can do miracles. He's there with a lot of advice for everyone, features, subscriptions for contest winners,... And without shouting on a table to gain more popularity for himself. His most recent angelic deed was helping someone very dear and appreciated here, when terribly in need. He found the way to engage a lot of people here to for once not think about page views, and not even art, but help someone out, and give a chance again. He brought our community here together to become a real, caring FAMILY. Full of angels...
2.
Hannadeva
suggested by
Wimley
Hanna is an 18-year old girl from Deva, Romania. She's a very aspiring photographer, and improving with every new work she uploads. I guess she got a lot of inspiration in the mass features she regularly does, always neatly chosen by theme. You sure must read her news articles. She also brings under attention some new artists she discovered lately with every journal update she does. Even now without subscription she tries to support as many as possible. Go give this angel a big hug and kiss!
3.
matt-h-mitchell
suggested by
CindeeRoo
and
splink
Matt is a kind, thoughtful, community loving person. He features loads of people and contest winners, has always a kind word for everyone, answers all comments, and is often seen to cheer up fellow deviants. He has a good sense of English humour, which makes him a fantastic lad angel to have around here.
19.02.2009
1.
JunkbyJen
suggested by
Docali
and
Nameda
Jen is one of the very nice persons on DA. She is very responsible and sympathetic person, which tries to help where ever she can. She does a lot for her fellow deviants and dA. Not to mention what she does already through being a Digital Gallery Moderator. Also many deviants know and love her wonderful projects:
Birthday Board
,
Digital Thumbshare
,
Friday Favorites
, and last but not least Think Pink , the yearly contest in celebration Jen's years as a breast cancer survivor. For every entrance she sacrifices a sum of money, which after ending of contest is passed to the Susan G Komen Foundation for breast cancer research. Unfortunately, now the cancer did return to her. Jen we are here for you with our thoughts, love and prayers.
2.
magnusti78
suggested by
Annissina
and
Nameda
Satu is a very sweet lady who always encourages others to keep trying, even when they have already given up. Even though she may have her personal problems, she never refuses to help people, on whatever topic, especially fractaling. She is actually always ready to help out. Satu might not be one of the most famous people around here, but she is adored by many! She supports everyone, even if they're new to dA, which is somewhat rare. Satu is not only an awesome fractal artist, but also a wonderful friend when you come to know her better, a true angel!
3. on request of the awarded I removed any naming. She doesn't want to be named and stay an angel incognito. I am very sad to have to remove, but I have to follow the request.
26.02.2009
1.
signmeupscotty
suggested by
Adi-Emus
and
Nameda
He does great efforts to help us meet and brings together a lot of great dA ARTists and just friends. To make this possible, he is holding monthly contests (open for everyone, regardless skills or whatever), pays from his own pocket 3month subs as an award, and meanwhile features a lot of fellow deviants and gives advices in a very pleasant and friendly manner.All his journals show us a great willing to support as many as possible. Features, articles, links to interesting news, contests... Marcus is an angel for this community for sure and brings us a bit closer to (ART) heaven!
2.
renatoart
suggested by
David-A-Wagner
and
glunac
We would like to nominate Renato, because month after month he unselfishly gives everyone the chance to be featured on his journals. He asks nothing in return & he promotes everyone who sends in their submissions. Plus, he's just a very nice person with nothing to hide. Renato frequently comments and faves deviations and always thanks people for faves. We all should be honoured to count him as our friend.
3.
cosfrog
suggested by
oibyrd
This man is an absolute MUST in the angels department on dA. He supports every project, club and account. He has never shown even a hint of ego and has ALWAYS been very warm and communicative with his watchers. Something I think a lot of us forget about. Talking and commenting back and forth is what this place is all about. He does so brilliantly and gets involved and is just downright charming and making you feel like family.
And now being a GD, it's not only about being a good friend, but also being a perfect guide to make us all better artists too.
Bi- monthly from here on
05.03.2009
1.
StamatisGR
suggested by
FioReLLo
&
Nameda
Stamatis is always extremely supportive for his fellow deviants by always commenting and giving uplifting comments. He supports in his journal, almost on a daily basis, artists with low pageviews and that deserve more publicity, projects/contests that are up and running, and notices us about deviants that are in need of help. He spends a lot of his time and effort on dA wholeheartedly. When you read the description of the Angel Without Wings Award you'll understand why he deserves it. And since last week he is also a gangster of Love.
2.
TerrorCookie
suggested by
EndlessVox
She reguarly features people in her journals and she's very helpful in helping people figure out how to do things here on DA. Also with other things like language and spelling errors on deviations/journals. She's also very active in the message boards. I believe that she deserves the AWW Award beacause she makes the DA community a better place by being an open, honest, and postive person.
3.
Irena-N-Photography
suggested by
Cmac13
hellfirediva
&
Wimley
"Wormsy" is one of those persons here that make it a warm good place to be. She's part of "The Best Kept Secret" project, where together with some others they feature deviants with less than 5.000 pageviews, but really deserve more attention. Her journals and comments are always with a giggle and some humour, not just dry stuff, and full of hints and tips to improve the whole community. And improve yourself as an artist, and even better person by bringing under attention many charity projects. And not to forget... a fantastic photographer that can teach us a lot!!
19.03.2009
1.
AussieSteve1961
suggested by
FireflyPhotosAust
&
DrewHopper
Steve does a lot of manipulation work and has recently purchased a DSLR so that he can learn photography. I have always found him to be pleasant, extremely friendly and very helpful. In fact he will go out of his way to help others on dA. When I was having problems with my pc and IE he would research matters and email me suggested solutions to the problems. He has been an enormous help to me in learning how to use photoshop. Steve recently created this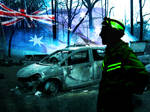 to help raise money for the victims of the bush fires in Victoria. I know that he often donates subscriptions to other deviants that can not afford them. Steve also offers lots of encouragement to other deviants.
2.
VelcrowEriol
suggested by
Wimley
Krzysztof is an 18-old guy from Poland, and relatively new here on dA (9 months), but ooohh so active already. Read his journals and you'll see weekly mass features, without even a trace of self-promotion. He's always there with a thank you, a friendly word, and offers help without you even ask. For clubs, to help them administer, but also for fellow deviants...
This is sure the kinda people we need here to keep it the wonderful community it is.
May you stay long among us mate!
3.
ProdromosK
suggested by
MountainShots
&
Nameda
Prodromos is a photographer from Greece and only 8 months on dA. But... sharing besides his wonderful work (check his gallery!!), also sharing his knowledge with cosntructive critiques, contructive comments in the clubs on how to organize things, suggestions. A "dream-member" to have nearby.
Besides that his journals are full of features all kinds (he even featured AWW without being a Gangster!), and without any self-promotion or trying to get in the spotlights.
Great deviant angel to have around!
02.04.2009
1.
Moepling
suggested by
addictedcookie
Thomas is an amazing macro photographer and tries to help everyone with word and deed. If someone ask him for advice, he willingly gives it and helps to find a solution. He answers all his comments and features a lot of artists, makes regular news articles and is just holding his first contest. He features contest winners, and features clubs he thinks should get some more attention and members. A very nice and friendly angel for sure!
2.
Tricia-Danby
suggested by
RowanLewgalon
Tricia is always ready to give advice to fellow deviants in need, might that be personal or dA-concerning advice. Tricia has a nice word for everyone and besides that, she answers every comment that is given to her. In a quite frequently way she features other deviants in her journal and focuses on those who are not that blessed with faves. A sweet Angel indeed!
3.
DWALKER1047
suggested by
AnnaKirsten
Deb Walker is dedicated to dA and keen to uphold its best standards. She is an example to members of the site in her conduct and her enthusiasm. She loves to feature the artwork of other people, bringing to them more exposure. She also enjoys carrying out interviews of artists who show expertise in their field, and who often have interesting stories behind the scenes. She is a warm-hearted person and someone I would like to recommend for her inter-activity and positive attitudes, always there to help others along the way.