I am a digital artist, photographer and beaded jewellery artist from Germany.
Art is my passion, builds a big part of what I am. I want to inspire people with my art. I want to touch them, to make them see the beauty of the world around us, make them see the magic, the divine spark in everything. I love to give them a moment of serenity in this world full of stress, a smile when they really need it.
I hope to get my art seen to a much broader, bigger audience than it gets seen now, so it can touch more people, that it can inspire them and that hopefully I see the day I can make a living from my art. And support my family through something I really love to do. To show my kid and youngsters around the world that it is still possible to follow your heart and do what you love to do.
My art is as diverse as I am

I love to get close and capture the amazing details and beauty of flowers and insects, the grace of a cat, the beauty of nature, of god's creation.... I love to go "wild" with photo manipulation and digital art and create spiritual artwork, magical art, art that inspires. I love to create jewellery with a story / idea behind it, but still is wearable as everyday jewellery.
My artists name Nameda comes from native american, to be exact from the Anishinabeg (Ojibwe /Chippewa) Nameda or Namida is the short form of Namid Anang meaning star dancer
Personal Quotes:
Infinite Diversity in infinite combinations \V/_ - - - - - - Do as ye will as ye harm none

Wonderful awards I have been gifted with:


(no 2. because I was one of the last senior batches to be ticked off.. I am missing my tick)


:thumb311984850: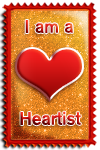 You can find me here too :