Buy me a Coffee? | Join my Patreon Pride! | My YouTube channel! | My Commission Info

So last Christmas season, I opened up Rehema breedables for a special event. The response was incredible and what will follow is an upload train of the adorable cubs that resulted from the holidays!
Don't worry - if you're waiting in Rehemuary cubs, they're on the way right after these guys.

---

Click here to see all the cubbies!

This speedster is the result of a breeding between

's Zawadi (a lion X cheetah hybrid) and my Rehema.


The parents: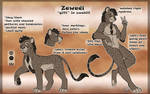 Name: None yet
Have fun with your new cub!

Art ©
Nala15
. Character design purchased by and ©
Rinzydings
.
Image details
Image size
2550x1938px 3.02 MB