273 Favourites
27 Comments
3K Views
Buy me a Coffee? | Join my Patreon Pride! | My YouTube channel! | My Commission Info

> See all the comics!
UPDATE: I've got a clean .png file and a .psd file of Uru and Rehema from here on my Patreon (no BG because it's not mine) for anyone subscribed to the Backstage Badger Badge tier ($3/mo) and up. Enjoy!


---

"...by the time the king comes to the spot, they are already gone. He chases after their scents, of his Uru and the rogue who he thinks abducted her but they have moved too quickly. They are out into the desert, with the wind taking their scent and tracks away well before the racing king can catch a final glimpse of his queen. Ahadi goes back to get Khalfani but little does he know the rogue knows the desert pretty well too and finds clever ways to prevent being followed."

This is a kinda-collab between Devinital (aka Devinital-TLK). I say "kinda" because she did the background a couple months ago, and I was inspired, and she was kind enough to let me download a full size version after I asked her.


However, my original idea evolved into the one you see thanks to an AMAZING Betrothed AU she wrote and illustrated the other day. The story snippet in italics above is from there.
You can find the whole story here: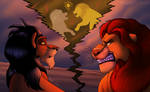 I implore you to read it! It's amazing and I loved every moment in it. It was written so true to the characters and my own little TLK universe. Tons of little details are included or alluded to - and I love how Taka's life turned out in this AU, too. Just amazing!

As a thank you for all your hard work on that, Dev, please accept this as my gift to you. Since I felt this would more adequately explain my feelings than a comment alone would.


Also Betrothed is 10 years old this year!
I guess time really does fly when you're having fun. I know I mentioned before that Betrothed is turning 10 (and will officially turn 10 in September this year), but I still find it hard to believe. In light of that, I wanted to draw Rehema and Uru together again. I haven't done so for a SUPER long time and it feels good to do so.

(Yes, I still low-key ship them. Bite me.)
In light of Betrothed's 10th Anniversary...
I've added a goal to
my Patreon
that would help me create a
remastered version of Betrothed
, or perhaps add some scenes (perferably both). If I reach this goal, I'll be able to dedicate the same amount of time to it as I do Brothers, or at least come darn close. A remastered SOMETHING will be coming this year to celebrate in any case. But if you haven't had a look at the Patreon Pride perks yet, maybe now would be a good time to do so.

Thanks so much for all your support, by the way - whether you're here on DA, on Patreon, or both. I've been writing and drawing comics for almost 10 years thanks to you guys! And that's something I'll never forget!

Dev's background (used with permission):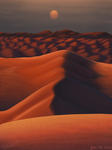 And if anyone reading this is wondering "What's Betrothed?" please follow the links down below and check out my Lion King fan comics.

Read "Betrothed"
(complete):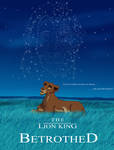 Image details
Image size
1350x1800px 1.79 MB