37 Favourites
8 Comments
578 Views
It's that time of year again - because the year (and in this case, the DECADE) is just about done. As always, thank you so so SO much everyone for an AMAZING year!

I wouldn't be here without you guys!

2019 was a super crazy busy year for me and I didn't get a lot of time for art, at least not in the way I'd hoped, but I think I got some more improvement in, tried new things, for sure met some super cool and helpful people, and overall had a ton of fun!
As a rundown... t
his year I...

Used more styles and tried some original things with art, including more dynamic poses and angles in all my comics, and shading/background techniques. I used my own style more as well.

Had a super successful year on
Patreon
- you guys are helping me achieve those goals left and right, I tell ya! You're the BEST!


Reached over 200 subscribers
on my
YouTube
channel and launched my first videos - more are coming next year, be ready!


Kept to a pretty rigid upload schedule for Patreon for all my comics. (Was NOT easy.

)

Tried more with anthro/human art - improved massively.

Continued more pre-production on two super secret comic/graphic novel projects, including concept art, character development and world building. More info to follow.

Overcame a difficult situation when my computer went belly up and set me back over a month in production (not to mention causing stress and needing some spendy repairs). Thanks in great part to adoption sales, I was able to cover the costs and also find a way to keep creating while my main machine was down. Thank you all!

Smashed more records for another SUPER successful commission year, including return customers, and several new customers who found me thanks to happy commissioners who worked with me in the past. I'm honored!


Also over 700 of you watched me this year (THANK YOU ALL AGAIN!!!)


If YOU have any personal faves in my gallery from this year, let me know!

HAPPY 2020 EVERYONE!!! Thank you all for everything!!!
Past years:
2016 and 2017 are missing.

(I shall see about fixing that later perhaps.)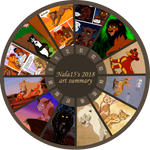 All art featured within this meme template is © Nala15.
Image details
Image size
2000x2000px 3.35 MB