Buy me a Coffee? | Join my Patreon Pride! | My YouTube channel! | My Commission Info

*Mario jump sound*


Posting a very sneaky sneak peek of page 158 - should be here Wednesday next week.

It's already available (+ one more page) over on Patreon.

(This preview does not reflect this panel's final appearance - it's got color, I promise.)
Next page
preview [158] :
Sneaking away . . .
Pages 158 and 159 are available on Patreon as well.

Page 158
on Patreon now!
Page 159
on Patreon now!
The whole comic:
Brothers Folder
Translations:

Deux Frères
[translated by PouassonDeOro]

Click here to go to the forum. [translated by the community. Grazie!]

The story before "Brothers":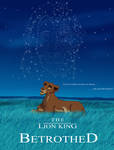 I am dedicating this comic "Brothers" to all of the fans who inspired and encouraged me while I was working on "Betrothed." Without you, this sequel wouldn't exist. Thank you. And if you're just tuning in, welcome aboard!
The Lion King
, Mufasa, and Scar © and
TM
Disney. Art and original comic story "Brothers" ©
Nala15
.
Image details
Image size
608x506px 60.81 KB