My Ko-Fi | Join my Patreon Pride! | My YouTube channel! | My Commission Info
> See all the comics!
For March, Sigma (aka

) asked for their OC raptor (also named "Sigma") to be drawn as a chibi. We have a little inside joke about me calling Sigma (the person and the raptor) an "intelligent muffin" instead of a smart cookie. And this pic of baby Sigma the raptor in a muffin cup was born from that.

Thanks so much, Sigma for all the love and support! You're super awesome!

To get a monthly free full body simple/chibi, or headshot, similar to this (along with other, exclusive monthly perks), you can support me on
my Patreon
. Free monthly headshots start at the $10 "Feed the Llamas" tier.


Past Patreon Rewards: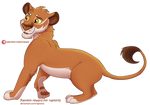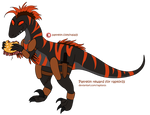 Art © Nala15. Character © robonerd01.
Image size
1687x1948px 659.32 KB