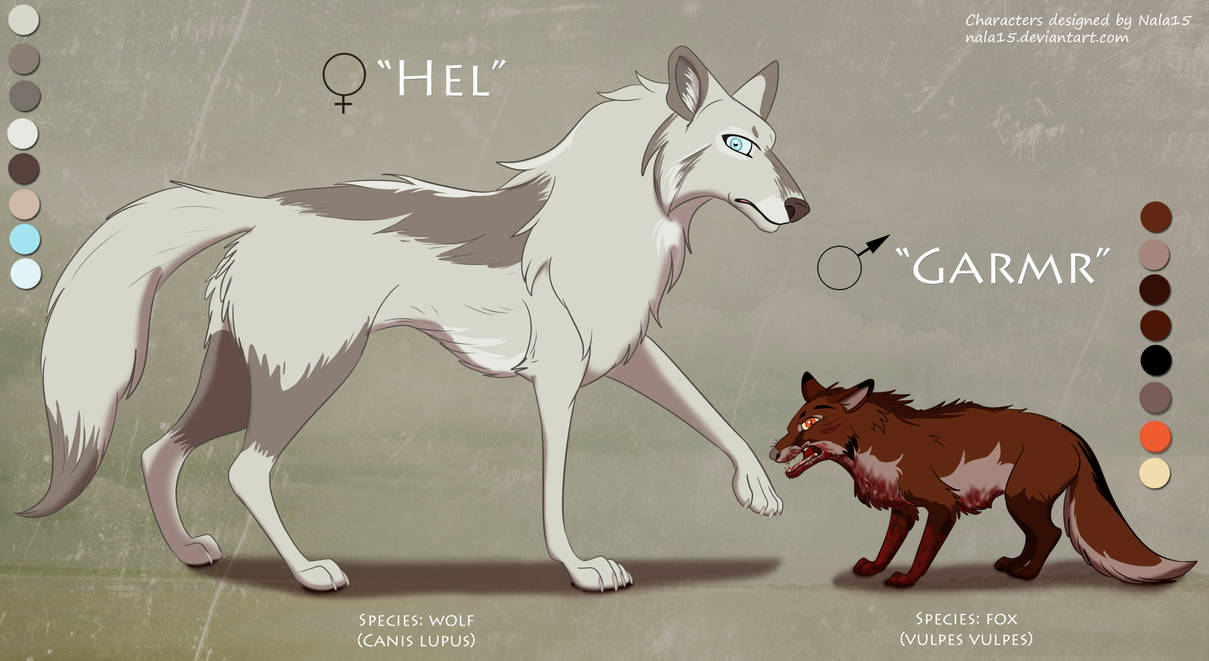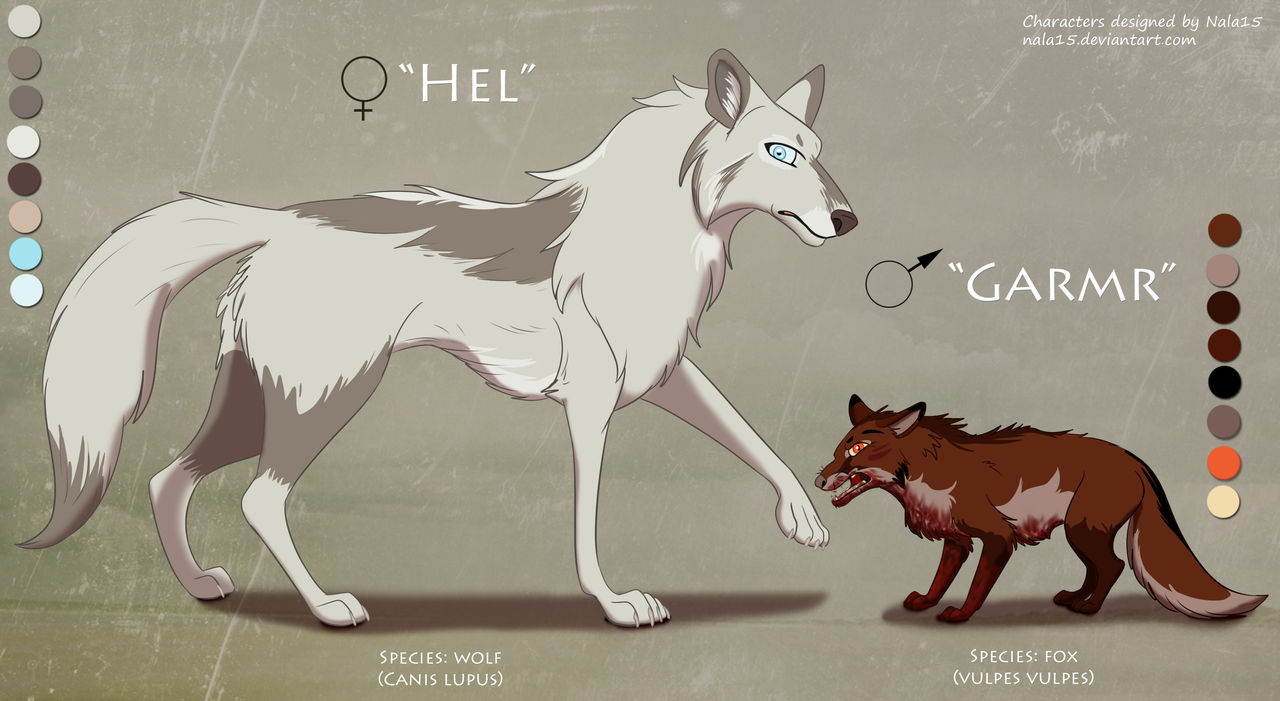 Watch
"Hel" - Wolf (female)- CLOSED
"Garmr" - Fox (male) - CLOSED


and PayPal accepted

See below for rules and details.
-----------
It's another adoption auction! Halloween themed!!!

Meet Hel - Norse goddess of the dead, here as a gray wolf. In mythology, she is the daughter of Loki and keeper of the underworld. She tracks the dead with her blood-stained hound (here, a fox) Garmr. Not ready to die? Too bad... she will find you.

One or both of these lovlies can be yours if you have the highest bid!
Just reply to the comment chain below with your bid. [link lower in description]
RULES:

Reply to the highest bidder with your bid.

Minimum bid increase is 50

/ 50 cents.

Please don't drive up the price if you don't intend to pay for them if you win.

The winner will have 48 hours to give me the payment from the highest bid.
Otherwise, the character(s) will go to the next-highest bidder.

Please draw them when you get them. They need some love.


Changes to the design, and a name change are welcome.

You may resell this adoptable
only
if you create your own art or have art commissioned of them when you sell. If you only wish to give them away, redrawing is not necessary, but please don't upload this image to your gallery.
Thank you.
Good luck!
AUCTION ENDS:
24 hours after the latest bid

"Hel"
CLOSED
Starting bid: 100

| $1 PayPal
Autobuy: 2500

| $25 PayPal
"Garmr"
CLOSED
Starting bid: 100

| $1 PayPal
Autobuy: 2000

| $20 PayPal
AUTOBUY for both: $40
Characters designed by Nala15. Art © Nala15.

These are lovely, Nala. Your wolves, if I do say so myself, have improved.
Reply

just a observation from a Nordic here.
really like that you made Hel a white wolf because the world of the death in Norse Mythology was out of frost and cold.
I am a bit neutral with Garmr design since I am used to see it as a dragon/wolf hybrid.

still, very nice design choice for Hel

Reply

Oh, thank you! I appreciate the observations for sure.

And yay! Thanks for noticing that her colors mean something. And yeah, I wanted Garmr to be something that made some sense for a wolf to have as a companion or assistant. Coyote wasn't really doing it for me, so I went with a fierce fox instead.
And thanks again!

Reply

Not ready to die? Not really.
But she won't get me LOL! I got Someone better ;D

Good work on the wolf drawings also!
(maybe make the front paws a teeny bit thicker, but that may be just my personal pref.)
Reply

LOL

And thanks! The thin legs were a style choice (because she's the guardian of the dead, I wanted her to be a little "skeletal" in places). But thanks!

Reply

No worries!
Yea, I can understand that - maybe, as such, give her ribs a little more visibility?

Just a suggestion
Reply

BID HERE | REPLY TO HIGHEST BIDDER

"Hel"
Starting bid: 100

| $1 PayPal
Autobuy: 2500

| $25 PayPal
Reply

Reply

Reply

Reply

Congrats, you won Hel with your $5 bid!

I'll send you your invoice via PayPal. Thank you!
Reply

Will do.

Reply
(2 Replies)

BID HERE | REPLY TO HIGHEST BIDDER

"Garmr"
Starting bid: 100

| $1 PayPal
Autobuy: 2000

| $20 PayPal
Reply