Buy me a Coffee? | Join my Patreon Pride! | My YouTube channel! | My Commission Info

Rehema's story continues in more tree painting flashbacks! This style was chosen by my Patreon Pride
via poll
.

Does anyone remember
Howard the mouse
and/or
George the ant
?


Yes, they (along with the unnamed "Gopher" [or hyrax]) were part of the Underground all along, keeping tabs on Baya's murderous, poaching activities! Dun dun DUN!!

More revelation: Rehema created the Underground with the honey badger Zama (mentioned back on
this page
). Technically, Zama the honey badger's name was inspired by a certain character's catchphrase from TLG, but that's where the connection ends, I assure you. LOL If you wanna use anything more for a headcanon, though, be my guest.

More-more revelation: Does that lioness in the painting look familiar to anyone?


I colored the characters and did the "tree painting" flackback images for this page myself, but the "tree bark" background is courtesy of my new background artist. More on her later.

Thanks so much for your help!


Page 147: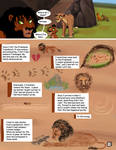 The whole comic:
Brothers Folder
Translations:

Deux Frères - Page 148
[translated by PouassonDeOro]

Click here to go to the forum. [translated by the community. Grazie!]

The story before "Brothers":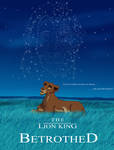 I am dedicating this comic "Brothers" to all of the fans who inspired and encouraged me while I was working on "Betrothed." Without you, this sequel wouldn't exist. Thank you. And if you're just tuning in, welcome aboard!
The Lion King
, Mufasa, and Scar © and
TM
Disney. Art and original comic story "Brothers" ©
Nala15
.
Image details
Image size
963x1244px 589.89 KB