220 Favourites
68 Comments
11K Views
Buy me a Coffee? | Join my Patreon Pride! | My YouTube channel! | My Commission Info

> See all the comics!

Poor Ahadi.

And Rafiki looks so, so tired.
My colorist for this page is AshWolf-Forever. Thanks so much, Ash! You help keep Brothers going at a steady pace!

Next page preview: To be king . . .?

Read or download page 107 in HD on
Patreon
Page 106: Brothers - Page 106

Page 108:
Brothers - Page 108
Bonus April Fools/Joke page available on Patreon for FREE, right here
:
www.patreon.com/posts/35535411
Translations:

Deux Frères - Page 107
[translated by PouassonDeOro]
The story before "Brothers":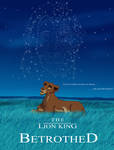 I am dedicating this comic "Brothers" to all of the fans who inspired and encouraged me while I was working on "Betrothed." Without you, this sequel wouldn't exist. Thank you. And if you're just tuning in, welcome aboard!
The Lion King, Mufasa, and Scar © and TM Disney. Art and original comic story "Brothers" © Nala15.
Image details
Image size
963x1244px 955.08 KB