Buy me a Coffee? | Join my Patreon Pride! | My YouTube channel! | My Commission Info
> See all the comics!
Two buffalo descend into the gorge. Two buffalo come back up, but only one is laden with precious cargo - Queen Uru. And it looks like Ahadi won't be coming up to join her. Not for a while, at least. Mufasa gets the bad news. How will he take it?


My colorist for this page is
Malika-Draws. Thanks so much, Malika and welcome to the Brothers colorists team! As you can see, she colored the character flats for a full, multi-panel page this time, and did an excellent job!

Page 100: Brothers - Page 100
Translations:

Deux Frères - Page 101
[translated by PouassonDeOro]
The story before "Brothers":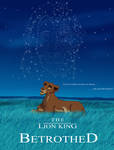 (read "Betrothed" first to fully enjoy "Brothers")
I am dedicating this comic "Brothers" to all of the fans who inspired and encouraged me while I was working on "Betrothed." Without you, this sequel wouldn't exist. Thank you. And if you're just tuning in, welcome aboard!
The Lion King, Mufasa, and Scar © and TM Disney. Art and original comic story "Brothers" © Nala15.
Image size
963x1244px 768.84 KB