Buy me a Coffee? | Join my Patreon Pride! | My YouTube channel! | My Commission Info

This page was posted at the end of July for my Patreon Pride. If Brothers was a printed book, this would take up a two page spread - hence the term "splash page" (which can also technically mean a single comic page that is one scene with no panels).
Not exactly a happy scene, but it is a big one - and one that reveals and confirms some information from Rehema's "tree painting" story/flashback. The lion pride Rehema was staying with was indeed Noka and Ali's pride. Baya's hyenas are attacking them to kill them after the cubs attempt to escape. This scene is one of the final moments before Ali and Noka were the only ones who were able to escape with their lives and make a run for the Pridelands. Where they are later discovered by the cubs: Sarabi, Sarafina, Mufasa, and Taka. You may recognize the lioness in the middle as Pule, who is Noka's mother. She later is seen as Baya's "throw rug" sitting place.
Also, while they were present, Rehema and Baya aren't seen in this illustration. Reasons to be disclosed later, perhaps.



Also, also, this is how this scene affected Noka (blue-eyed cub under the lioness in the middle) and Ali (the maned lion), after they escape to the Pridelands: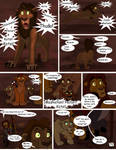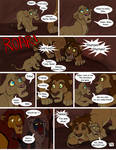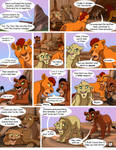 (selected pages from Brothers)


This "page" was colored by (and partly composed with assistance from) Cynder. Thanks so much for helping me get this one done!

Next page preview: Escape to the present . . .
Page 151: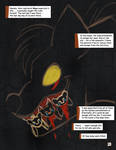 Page 152 (for real):

(next
Wednesday
!)|
Read
on Patreon
now!
Page 153: Available
on Patreon
now!
The whole comic:
Brothers Folder
Translations:

Deux Frères - Carnage
[translated by PouassonDeOro]

Click here to go to the forum. [translated by the community. Grazie!]

The story before "Brothers":
<da:thumb id="178436949">
I am dedicating this comic "Brothers" to all of the fans who inspired and encouraged me while I was working on "Betrothed." Without you, this sequel wouldn't exist. Thank you. And if you're just tuning in, welcome aboard!
The Lion King
, Mufasa, and Scar © and
TM
Disney. Art and original comic story "Brothers" ©
Nala15
.
Image details
Image size
5088x3296px 7.11 MB