!!! UPD current commission info is here
I'm open for visual arts commissions
!!!
I do strong female personalities. Super heroines, fighters, champions. I may take other topics, if I find them inspiring. Feel free to ask.

Important:
Usually I do not accept private commissions, which you don't want me to publish. I want to publish commissions I do on my webpages and social networks. I keep my authorship. I'm going to feature you as the one who commissioned (unless you ask me not to do that).
Each time you publish the commission, mention me. Surely, you are free to publish your commission, but I ask you to mention me as the one who made the piece.

Modifications of the picture. Sometimes I want to produce and publish variations of the commission. For example, a SFW version when you order a NSFV or vice versa, add some other characters to the picture etc. I will mention that this is a variation of your original order, so, ultimately this is going to feature your idea and impact.
These conditions are for my promotion. If for whatever reason you want to change them, we need to negotiate. Be prepared that the price is times larger, cause I need to compensate that I don't get promoted.
Rates
A single person in linearts: 30$, at least A5 150 dpi. A single person in color: 50$, at least A5 150 dpi.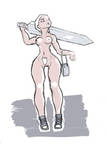 Complex settings: additional price (e.g. +50%, +100% etc), at least A4 300 dpi.
This includes additional characters, interactions, complex composition, strips.

Payment: via PayPal.

How we proceed
Email to me

kngr1492@gmail.com

. Describe the main idea and character, give me whatever info or references you consider appropriate.



I respond to accept, decline or clarify details.

If I accept, I show you a rough low-res sketch and give you payment details.

You pay 50% fee, and I start the main work.

I email you a preview.

After you pay the rest, I send you the hi-res final version.
I will publish the piece in my galleries, mentioning you. I encourage you to do the same, mentioning me. And we're done )