Hello! I'm Nadine. Just to be clear I do have a last name BUT I chose not to put it just because it's hard and confusing so yeah. I'm an artist, and I'm new to this so bear with me.

Favorite Stamps:
:thumb93675251: :thumb91505182:









Please join my two groups!


I do take requests and if you want me to do something for your birthday just ask! If you're a close friend I may do one without you asking! Or if I admire your artwork.

Or, in plainer language...
Awesome friends:




Love you all! Favorites and comments on my artwork are always appreciated. Even if I don't respond to the comments, please know I care and love you for it.
-Nadine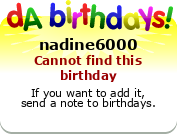 Avatar made by
Kezzi-Rose