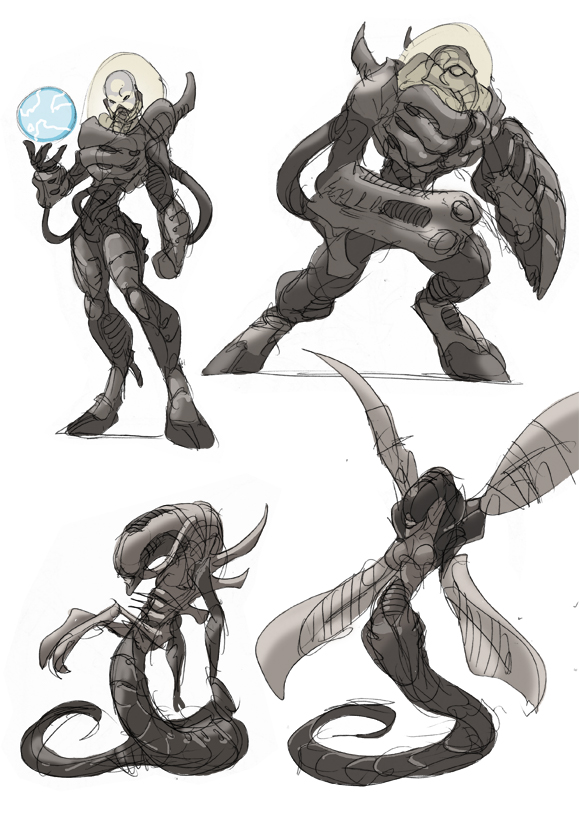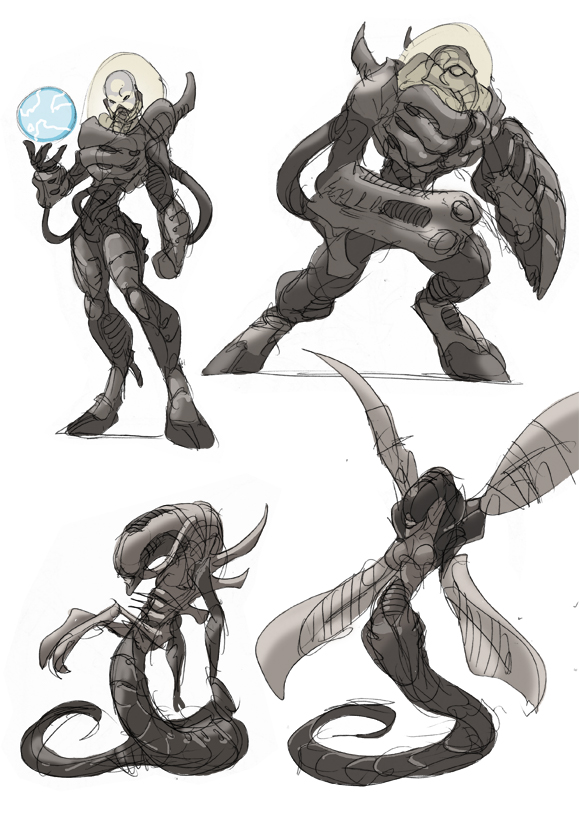 Watch
There are another image of Engineer Workers. This time with space bio-suits. Emissars for the ancient gods who created humankind. Below are two examples of the Biomechanoid Drones. Based on worm-like creatures from same homeworld than the Space Jockeys, these are one of first biogenetic engineering achievements. Sentinels and enforcers at those alien spaceships and ports. Highly adaptable, fast, agressive hermaphrodite creatures. They´re basically a multi-purpose genotype to test and check all kind of genoma variations prior to start the new species breeding process. Most part of their DNA was reconfiguired to create new lifeforms, like the commonly known as Xenomorphs.

Reply

you're having a lot of fun with this.
Reply

En las escenas eliminadas de Prometheus, el geologo infectado por el liquido en un diseño aparece como un hibrido alien humano que da un repelus de cojones (no el humano con tumores que es finalmente) y mencionan que ese diseño se basaba en el concepto "cabeza de bebe", es decir, una cabeza mas grande que lo que corresponderia al cuerpo. Al parecer es parte de la clave del trabajo de Giger con los aliens. Veo que lo mantienes en los Drones tu tambien en los drones
Reply

Reply

Ooooh, I'd love to cosplay that first bio-suit sometimes, that looks amazing!!!!
Reply

Verry cool, keep it up!

I really don't like the thought of the xenomorphs having been created. I've drawn an ancestorial species to them too, without any host-aquired traits
Reply

Reply

Personally, I don´t consider those movies canon with original ALIEN and PREDATOR movies. There are some comic books from Dark Horse Publishing (where this crossover was born) with much better AVP stories, all them set on the future.

The main problem with ALIEN saga is that there are not really a saga, most probably some franchise. Original movie was really well finished and didn´t neeed for any sequel. ALIENS was a surprising change of direction that really works in tandem with original, but the rest... I think the producers never understood the original movie and they just are shooting on any direction.
Reply

Maybe david was recreating the original xenomorphs before the engineers
Reply

This just keeps getting better and better
Reply

This again, is better than what we were given with the two newest Alien movies.
Reply