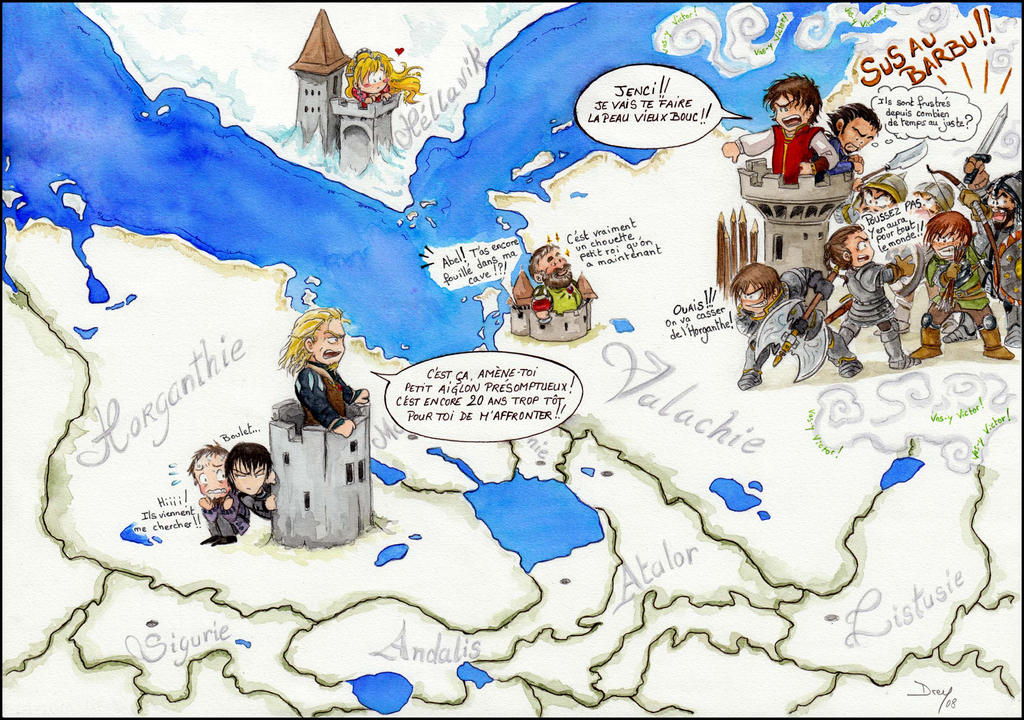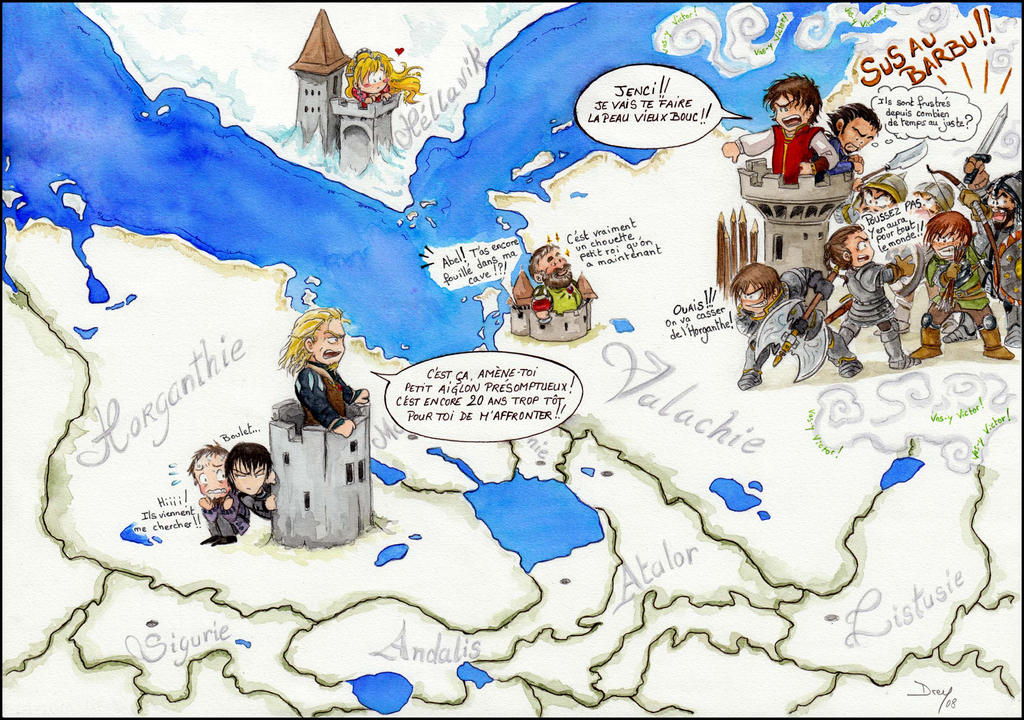 Watch
Final Edit :
OK DONE ! yes !
Well, I hope you're not disappointed with the minimalism of the coloring but I thought that wouldn't be a good idea to put a color on all through the map. Then I choose it to be quite light and this way the focus remain on the characters, that's the most important part.

And now I can... SLEEEEEP !!!!!! that was incredibly loooong ! because I worked on the days and drew on the nights, and then, when did I slept ? well, I almost didn't slept and know I'm quite exhausted but really happy with this achieved idea !

Oceanlord's universe again ! Well, that funny idea pops up 2 days ago and I haven't be able to escape before I draw it. And I'm really happy to have done

How may I present that ?... It's a caricatural summary of the plot of Oceanlord's story

I'm sorry for the big size but it's so full of details so that's necessary for those who want download it.
For the translation... well that's not easy because there are a lot and I'm not so sure of my english level...
The title is borrowed to a children's song : "Castle, watch out !"
Victor
(on the top right castle pointing down is thumb) : "Jenci, I'll kill you old goat !"
Jenci
(the long hair guy on the bottom castle) : " 'Right, come ! presumptuous little eaglet ! That's 20 years too early for you to face me !"
Andrei
(the more on the left) : "Hiiii ! They're coming for me !!"
Dan
(on Andrei side) : "Useless idiot..."
Abel
(on the middle with sparkling eyes) : "We really have a great little king now"
Behind Abel
: "Abel ! you've rummaged around my cellar again !?!"
Costea
(behind Victor looking down the group) : "By the way, how many time have they been frustrated ?"
Joseph
(with the axe) : "Yeaah !!! we will smash some Hoganthe guys !"
Ana
(behind Joseph, restraining the group) :"Don't push ! There'll be enough for everyone ! "
The group
: "At the beardo !!"
And everywhere following the curves on the right side of the page : "Go Victor ! Go Victor ! ... "
Phew ! I think it's all ! I hope you understand a bit with that

And for those who know ML's story, enjoy and good laugh !

Of course all these chara are ©