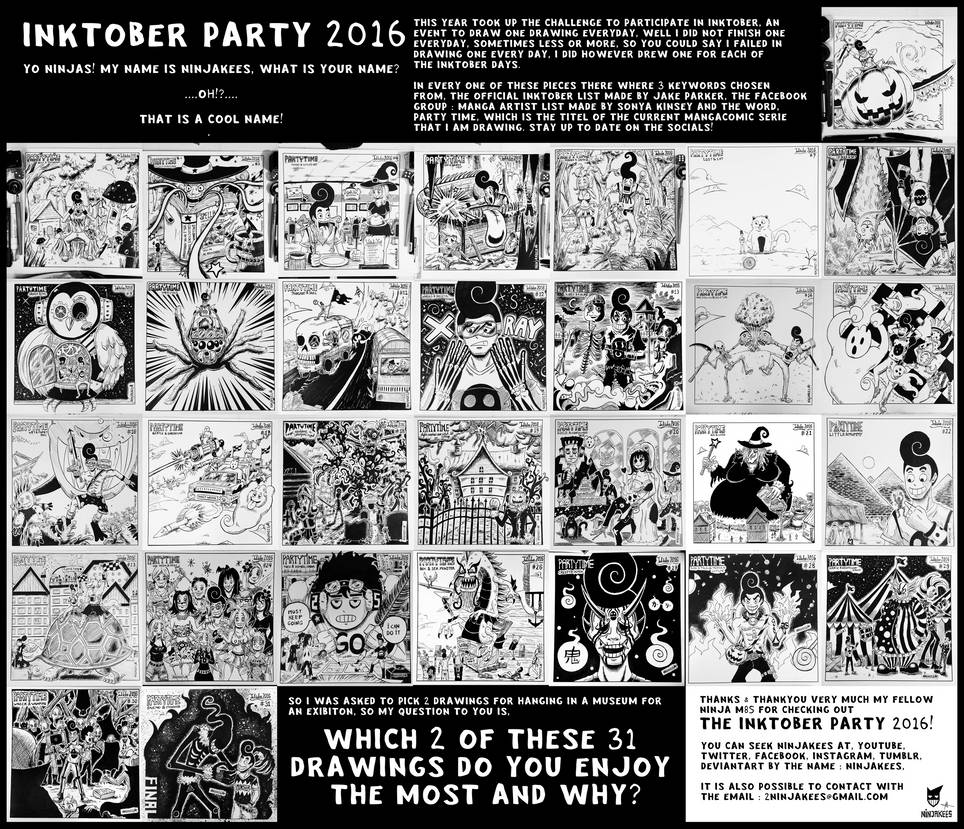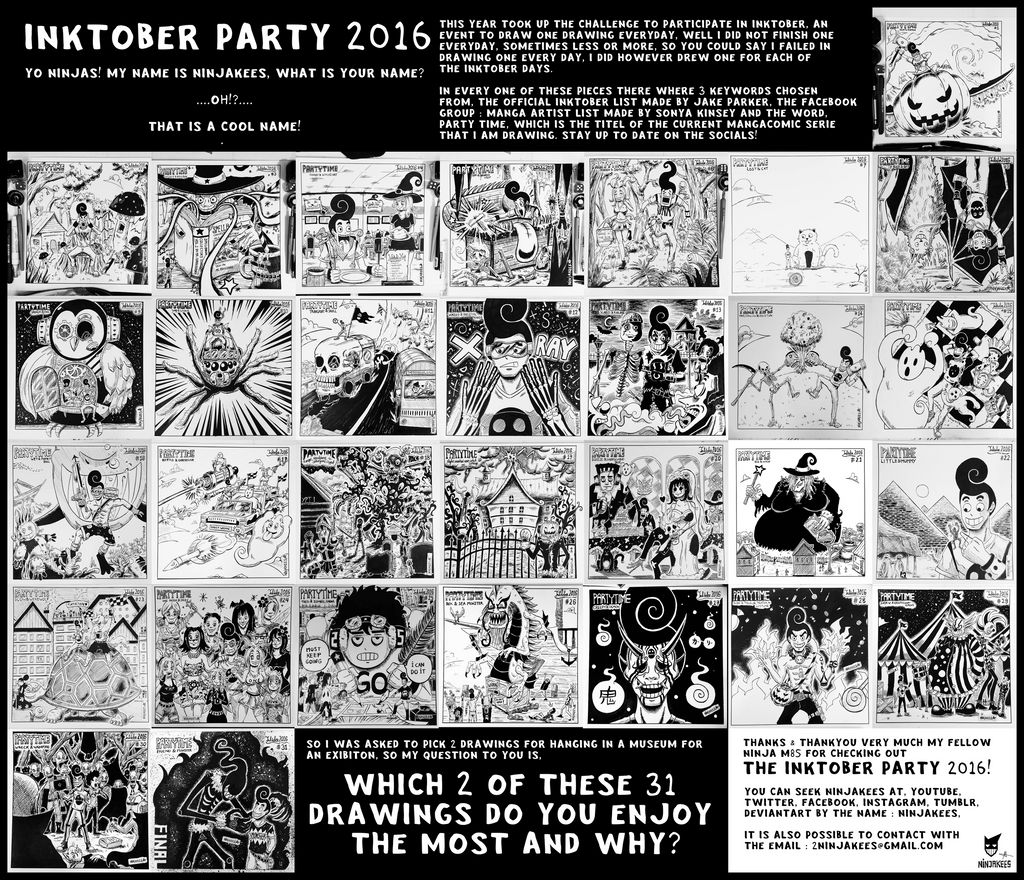 GET YOURSELF COPY OF THE INKTOBER PARTY 2016 @ ninjakees.bigcartel.com





INKTOBER PARTY 2016 - WHICH 2 YOU ENJOY THE MOST!?

This year took up the challenge to participate in inktober, an event to draw one drawing everyday, well i did not finish one everyday, sometimes less or more,
so you could say i failed in drawing one every day, i did however drew one for each of the inktober days.

In every one of these pieces there where 3 keywords chosen from, the official inktober list made by Jake Parker, the Facebook group :
Manga Artist list made by Sonya Kinsey and the word, Party Time, which is the titel of the current mangacomic serie that i am drawing. Stay up to date on the socials!
So i was asked to pick 2 drawings for hanging in a museum for an exibiton, so my question to you is,
WHICH 2 OF THESE 31 DRAWINGS DO YOU ENJOY THE MOST AND WHY?

Note : You can DOWNLOAD the HIGH QUALITY version of this compilation by clicking the DOWNLOAD BUTTON >>>

or see FULL IMAGE HERE : i.imgur.com/EXPY4Nc.jpg


Thanks! & Thankyou very much my fellow Ninja M8's for checking out Inktober Party 2016! Until the next one!



You can seek Ninjakees at, Youtube, Twitter, Facebook, Instagram, Tumblr, Deviantart by the name : Ninjakees,
it is also possible to contact with the email : 2ninjakees@gmail.com

Oyeah! It is also possible to check each one of the individual inktober drawings in my gallery over here : n1njakees.deviantart.com/galle…


NKTOBER PARTY 2016 EXHIBITON VIDEO LOG : www.youtube.com/watch?v=UrfXMN…

------------------------------------------------------------------------------------------------------------------------
Streams @ Twitch : www.twitch.tv/ninjakees


Inktober Party 2016 - The Individual Drawings :

TWITCH : www.twitch.tv/ninjakees

( Lately been streaming allot, like almost every day)

YOUTUBE : www.youtube.com/c/ninjakees
(Where i share MangaVlogs, Vlogs, Speeddrawings, Ect, Still experimenting with it...)

SOCIAL MEDIA
(For The Party Time Process, Wips, Sketches, Process, Inks, ect...)

Twitter : twitter.com/ninjakees
Instagram : instagram.com/ninjakees
Facebook : facebook.com/ninjakees
Tumblr : ninjakees.tumblr.com

Hmm... Number 12 and number 20!

Reply

So hard to choose !
I'd say the 1st and 31st because it shows your technique et and creativity from the beginning to the end.
Some others I really like are #2 #3 #20 #25 #30 for the creativity and the general composition.

And congrats for the exhibition!!!

Reply

Wow! Lot's of choices and great explanation why you choose them

Thanks & Thankyou for your lovely comment A!<3

Reply