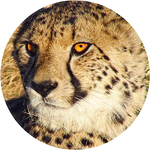 Blessing name
(s) ☆ Southeast African Cheetah (
Acinonyx jubatus jubatus
)
Blessings
☆ 1
Rarity
☆ Common
Eyes
☆ Round
Description of blessings and Annie

☆☆☆
The cheetah is a medium-sized feline that is normally found in the wild open fields, where they chase and hunt their prey.
They have a bright yellow, or sometimes a golden coat, that is thicker than that of its other subspecies.
Very pronounced spots cover a majority of their body, each placement unique from the other, often used as their identities when
differenciating one from another.
This annie is blessed with a desaturated golden coat, with gorgeous black spots finding their own places in his fur.
His tail is quite fluffy, his hair soft to touch, and black markings take their places around his eyes that resembles his blessing.
Chika is a shy little guy who was born in a wealthy family. He loves travelling across many places and taste the food,
specially pastries, of each location, and is pretty friendly when spoken to despite his meek personality. He also loves dogs.
Proof of Approval 1
|
Proof of Approval 2
by Yamio.
---
Annies Species (c)
Yamio
Chika, Art and Design (c)
shriotorizawa
All rights reserved.
Please do not use/edit/trace/crop/repost/reupload or use my art and character in any way or form, thank you.


Image details
Image size
600x975px 470.41 KB