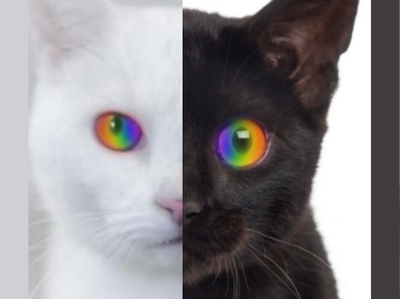 If you liked, leave a llama!
---
Dawnkit looked out at the seemingly endless forest beyond the camp.
In it she knew there were berries and trees and flowers that smelled better than anything a cat could smell. There were birds chirping, waiting to be caught - rabbits in the ground, sneaking out of their holes only to be dug into with claws. Dawnkit couldn't wait until she became an apprentice, but a half moon seemed too long, even compared to the five moons she had already waited. She wondered how a half moon could be longer than five complete moons.
She could even see the slight stretches of land beyond the forest of pines and great oaks. A river flowed peacefully along the CascadeClan border, the spanning CycloneClan moors and hills seemed especially evident against the mountains beyond. The tall rocks of the Land of Stone towered above the territories, the Cave of Moon Crystal beyond the moors of CycloneClan. In the distance, the small forest trees of DischargeClan territory were outlined against the mountain range.
"Dawnkit, get down here!" called a grouchy voice. "You're not supposed to be there."
"But, I'm still in camp!" Dawnkit yowled.
"You know you're supposed to stay in the Gorge Tunnels, Dawnkit. The Gorge and the Clearing are off limits!" replied the voice.
"Fine, I'm coming down," growled Dawnkit. She peered into the gorge, several tree-lengths deep, before quickly bounding to the hidden wide ramp of a ledge that led directly into the Gorge.
Once Dawnkit had reached the ground in the camp Maplebriar rushed towards her. "You could get hurt up there!" she scolded. "And where's Daykit? Wasn't he with you?"
Dawnkit's head hung low as she said, "No, I haven't seen Daykit since this morning," she answered glumly.
"I haven't seen him since then either…" Maplebriar drifted off, trying to think of where her kit could be.
"Hey mom!" sounded a loud yowling meow. Maplebriar recognized Daykit and pinned it from at the top of the Gorge, at the Clearing.
"Daykit! Get down from there!" yowled Maplebriar, scared.
"Don't worry, mom. Also, why does the path down have to be so hidden?" grumbled Daykit as he stepped forward.
"Daykit! That's the wrong side!" Maplebriar's loud yowl drowned out everything else.
Daykit looked at Maplebriar as he processed what she was saying. His eyes went wide as he realized too late. The thin stone ledge crumbled beneath him. Daykit was sent flying, scraping against the rock walls, grasping for a pawhold that he never found.
Dawnkit heard a thud as Daykit landed on sharp stones far below the Gorge ground. Maplebriar raced to the ledge with Dawnkit not far behind her. Daykit's body lay broken and shattered, helpless, on the ground.
Maplebriar stared at Daykit for a heartbeat that lasted forever before turning around and stalking away, not even looking at Dawnkit.
"It's the same way Flailstem died," murmured Smokestar under his breath as he padded forward to peer into the larger gorge beneath the gorge.
"We need to go get his body for a proper burial." Pineburr decided.
"It's too dangerous," said Ashclaw. "We can't risk another cat getting hurt."
"I'll go! It's my son!" yowled Pineburr angrily. "I won't leave him there for the crows!"
Smokestar only shook his head sadly. "You're one of our strongest warriors. Your son is in StarClan now, watching over us, and he'd hate himself if you died because of him."
Pineburr just sat down at the edge of the Gorge.
"Dawnkit, go back to the tunnels," he ordered. "You're safe there."
"But…" began Dawnkit.
"No, Dawnkit. I want you safe."
Dawnkit turned and stalked back to the tunnels, just beginning to process the death of her brother.
…
Dawnkit woke to hear rustling in the Medicine Cave. She snuck out of her nest and padded through the tunnels into the Medicine Cave. Poppyseed and Appleberry were indeed working hard. Dawnkit ducked through the crowd to see who they were working on.
Laying in the nest was Daykit. He had, apparently, dragged himself halfway up the cliff shortly after Dawnkit had gone back into the tunnels. The medicine cats had been working on him all night.
"His side has been pierced nearly all the way through," reported Poppyseed after a while. "He most likely won't survive, but we'll do all we can."
"We'll have to use a lot of herbs, and we'll need more herb patrols," said Appleberry.
"It's not worth it," hissed Thistlecloud. "That mangey scrap of fur should have been left out there instead of wasting these precious materials. Leaf-fall is not the time to go around throwing away herbs."
"How dare you say that?" growled Maplebriar. "Daykit could… No, Daykit will grow up to be an excellent warrior."
Sweetjaw draped her tail on Maplebriar's shoulder. "He's lost a lot of blood, and he's really hurt," she reasoned.
"I refuse to believe that!" yowled Maplebriar. "He's a strong kit, and he'll-"
Appleberry turned around and Maplebriar cut off. Maplebriar looked at her hopefully. Appleberry silently turned away and stalked off. Maplebriar seemed like she would faint - she fell heavily on the shoulder of Pineburr, who seemed dizzy himself.
"I knew it," Thistlecloud growled. "That furball wasted our precious materials!"
"Thistlecloud!" said Poppyseed, struggling to keep from yowling. "But, he's not wrong. We've used the last of our borage, bindweed, and goldenrod. The only horsetail we have left is dried and stale - it'll have almost no effect."
"I'm so sorry…" murmured Maplebriar. "I should have killed when he came up. It was obvious he couldn't have lived."
Dawnkit froze and Maplebriar's last comment. "I'm not sure I can make it… He was my only beloved kit…"