Thank you so much for all the favs on this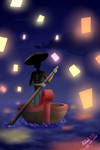 It really means a lot to me!! ;u; It is my most faved picture of all time!!

In other more serious matters then I found out today what subjects I will be taking for my finales ;u; AND IT
ISN'T GERMAN YESSSS!!

In Denmark the finals is like this:
You
need
to go to Danish, English and physics for the oral exams and you
need
to go to Danish and math for the written exams and then the Ministry will choose two subjects as extra either oral or written exams.
My class got
no
extre written exams (which is sad because they are the easiest) and social studies and math as extra oral exams

That means that I am going to have a lot of time the next two weeks because I only have a few written exams but in three weeks I am going to be very busy because I need to study for five oral exams in four weeks ;u;
HELP ME
BUT NO GERMAN WOOOO!!

wow long journal is long