Artist note: My public commissions (the prices listed from October) are closed. If you have a private request for a project or commission, you can note me.
Payment Information:
You can note me for a quote on your commission, unless I am offered fixed rate commissions, this is how I offer commissions.
Paypal only. USD (U.S. dollar) highly preferred. Via paypal, you can change your currency to USD. Will also accept (on occasion) Chinese RMB.
Please note, do you do NOT need to have a paypal account to pay through Paypal. You can still pay using a credit card/debit card.
Read if you do not have a Paypal account.
If you are familiar with paypal, you can send payment the regular way. If it's easier for you, you can send payments through my link:
Paypal.me/mzzazn
. Select no shipping. In addition, I can send you an invoice up request. Once again, you do not need a paypal account to pay me, but you can still use the website to use your credit card/debit card. It's just easier if you have an account!


In general, I accept payments upfront for projects. It makes projects and documents much easier to handle on both ends (especially for tax purposes). If you need a payment plan, PayPal invoices are used for partial payments.
Payment Process A:
If your commission order is
less than $400 USD
, payment must be delivered before I begin the sketch phase. This is considered a Special Commission.
Payment Process B:
If you payment order is
greater than $400 USD
and you cannot pay in full for your project, 50% of payment must be delivered before I begin the sketch phase, and 50% after I show you the flat coloring of a drawing. This is considered a Deluxe Commission. It is expected that commissioners can pay for their commissions before time, but I understand if you need a payment plan at times. Please note me about this.
Process: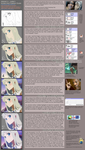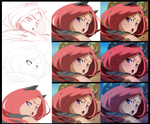 Commission style offered this cycle:
Basic Screen Shot (Head Shot) Commissions $35
Deluxe Screen Shot (Head Shot) Commissions $50

More complex coloring than basic.
Example:
Step 1 - rough draft:
Step 2 - lines:
Step 3 - flats:
Step 4 - Completion:
Please note, between step 3 and step 4, there's a bit of creativity and trust into the artist (me). Some colors may change because of the environment or the feel of the picture I want. To expedite your commissions, please have visual references (either drawn or from images on the web) gathered. This is applicable to designs as well.
Payment first
These are the
main
progress steps I will send to you. You must approve them within 24 hours before I continue. I will note you or email you depending on our correspondence.
1. Rough draft
2. Line art
3. Flat (base) coloring
After the approval of the flat coloring, I will finish your drawing.
Commission list -


Ikitsumi
3 simple ss x 1 chara REFS OBTAINED COMPLETING COLORS


Kimmi, email, 3 deluxe ss x 2 chara REFS OBTAINED COMPLETING COLORS
Others (Large projects/commercial)


Eric, on going game project, REFS OBTAINED



Jubalii
multi busts, chibi, backgrounds project -- PROJECT NEARING COMPLETION, REFS OBTAINED
Current Cycle

Grayjack72
raffle prize new request -COMMISSIONER DECIDING ON CHARAS,
NO REFS

Natalie HBD pic, 2 FB SKETCH PHASE

Houa Lor Book Cover

ClayFine
fullbody x 1 nsfw/1sfw

IdoroJustice
full body, style mimic fire emblem, painterly x 3

Sascha, chibi HBDpic

Project Depths, PROJECT COMPLETE

tcorton24 full body, ref page


Kakoussnight vectorized image,FB x 2


Chief-Vizier 17 items


Jason, email, NSFW/SFW versions


Henry W [email] sketches complete


Jordan L, half bod

Prince Arcane, RPG sprites x 3 with various expressions/poses

Ero Life, on going private project x1 full illustration

lovelymars908
NSFW sketch x 3 bodies

private commission, fb banner


Whimsiculture
trial x 1 discord

Messier61
sketch FB Venom x 1

private comm, cat - design project

Beautiful-Doubt
2 charas, thigh high, bg

Ghouliboo
1 chara, ss

MafiaIX
script feedback

Kaminari-Games
full body chibi x 1

VideoGameMichael
chibi emote x 1

nick72reid
Disney sketches x 2

NatsuoxOkami
2017 redraw
Auctions

Airyuzu
YCH#2 single chibi (cat) simple coloring REFS OBTAINED

viralremix
YCH #3 single chibi (witch) simple coloring REFS OBTAINED

viralremix
YCH#4 couples (leaf) REFS OBTAINED

blueberrygoblin
YCH #5 couples (pumpkin kiss) REFS OBTAINED

viralremix
YCH#1 single chibi (cape) deluxe coloring REFS OBTAINED

-PAID

-UNPAID/ONLY PORTION PD

-FINAL STAGES

EXCEPTION (GIFT, ART TRADE, RAFFLE PRIZE, ETC.)

-ON GOING JOB/LARGE PROJECT/COMMERCIAL PROJECT

COMPLETE
Terms:
1. I do not offer refunds after I accept your commission. This includes if your commission type goes in on sale X days later. You place a payment down for confirmation of a slot. Serious buyers only. Those with issues with be put on a personal black list and will not be serviced again.
2. Payment must be made according to the type of commission ordered. Payment Process A or Payment Process B (listed above) under Payment Information.
3. Personal use commissions - you are able to edit and print the image for your own personal use without any charge.
4. Commercial use commissions - double the price.
5. Do not claim my work as your own. If you purchased a commission, you may repost where you would like (with credits).
6. If you purchase a sketch commission, you may feel free to line and color it. No need to ask me for permission. However, you cannot use this for commercial purposes, unless you tell me. For example, you cannot ask for a sketch, make it vectored line art, and sell it as a coloring page for profit.
7. I have the right to decline any commission request.
8. If you are purchasing work for 18+ audience (NSFW, etc.), you are notifying me that you are of legal age to view/purchase the art work.
9. I will do
minor
edit a sketch up to two times without charging a fee per sketch (+$8 USD). I encourage a precise description of what you want (and examples) to avoid a fee.
10. I have the right to upload and share the drawing I produce for you, unless we discuss this before hand.
11. I live in China and have a heavy work schedule (please see front page). Keep this in mind for time zone differences when it comes to answering messages. Emails are checked daily, but many apps such as FB, WhatsApp, Discord, are blocked in China.
12. I don't work in a specific order for commissions unless a payment for priority is added.
How to order a commission:
Fill out the following form and send it to me in a note or if it's easier for you, via email to mzzychan@hotmail.com.
Your name:
Your paypal email address:
What you want to order:
How many characters:
References:
Is this for personal use or commercial?
Total for commission purchase:
Do you agree to my terms? Y/N?