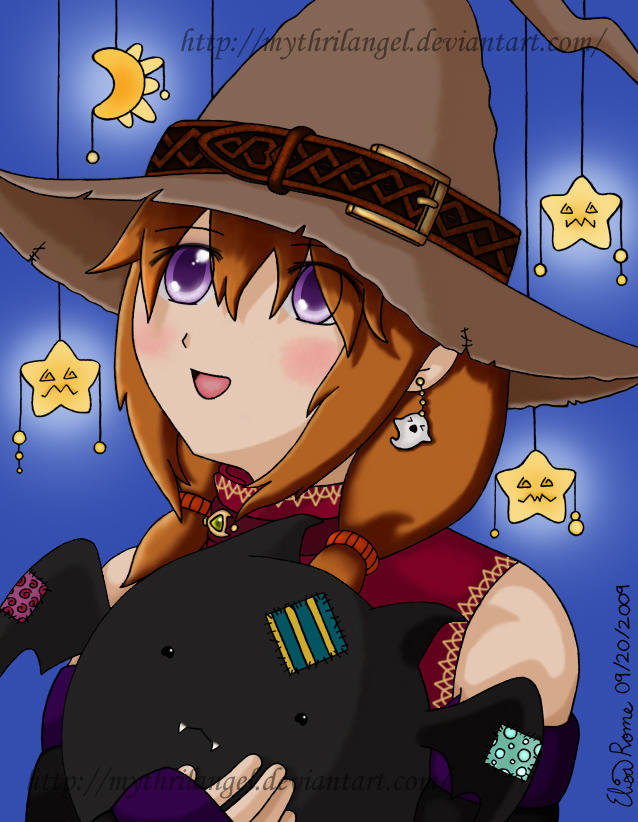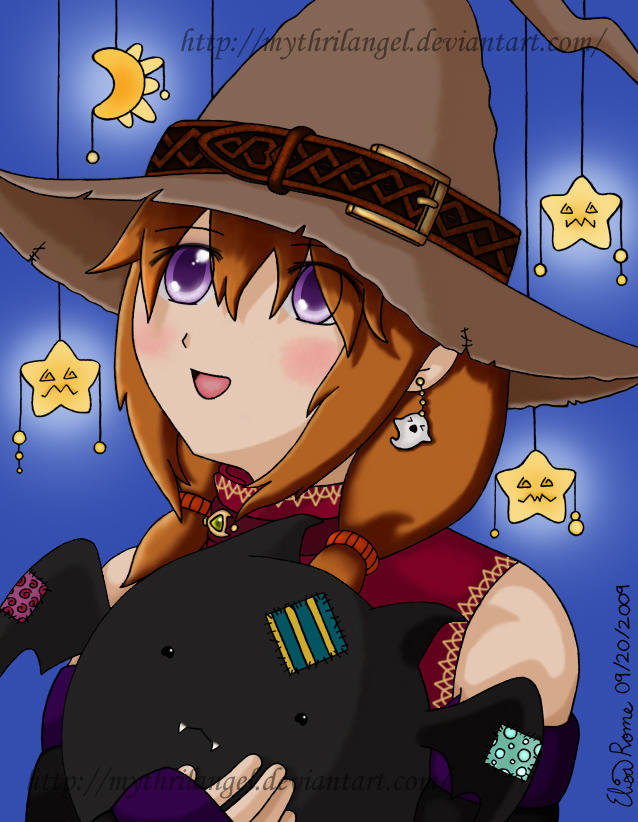 Emmie walks into the dome where the pumpki-star lanterns are harvested, to view the alchemist's latest success. A longer lasting alternative to their Jack-O-Lantern predecessors, they are also a trend among the younger witches and warlocks; the older generations of course turn their nose up at them for the most part. Meanwhile Patches looks on in contemplation of what sort of trouble he will choose to cause next : P
Emmie is the daughter of the Ravengale household. Her mother has passed away, and her father is always away on business, so she's always alone, aside from the ravens that serve the household and gain the house its name. A lot is expected of her, but she's pretty much a dunce at magic, and not for lack of trying and studying. She was given the task of making/finding a familiar, and since she is a very homely person, she decided to sew a plush bat. The day before the soul-giving ceremony, she decides to practice...and her spell backfires, hitting a bowl of candy corn (her mother's favorite snack that she keeps around) That is how
Trick and Treat
came to life. The next day, with a great effort from her teacher, the plush bat is given a soul-shard (a piece of Emmie's soul) and it comes to life. Patches gains his name because his mischief gets him worn ragged, and Emmie always has to sew him up. Trick and Treat were created without soul shards so they are pretty much oni, or demons.
Was working on expressions here -- Emmie looking up at the lanterns and admiring them happily (and obliviously as usual), while Patches glances at the viewer, full of mischievous amusement.
Lineart done by hand with a 0.5 mechanical pencil on printer paper, scanned in and colored in Photoshop CS4
The date on the side is the day I finished the line art.
Things to be improved on:
1) The collar strap doesn't align right, nor does the bat-ear-like clasp that holds it in place.
2) The Celtic knot work on the belt around her hat is a bit uneven.
3) The Pumpki-star Design can be further looked into.
4) The background needs a lot of work.
5) Shadow, light and blending.
My OC's:
Emmie:
The little witch.
Patches:
The plushie bat, also Emmie's familiar.
Bu:
The baby ghost, guest starring as an earring this time.
Pumpki-star Lanterns:
The star lanterns hanging in the back.
Bu is also seen here:
Baby Ghost Plushie
Halloween Plushies 002
Christmas Bu
My little Bro

has made an avatar for me of Bu, please go view the cuteness here:
Baby Ghost Bu