Hi! My name is Alli and i am an Digital and Animator on FS3D if you want to tell me and i make them logos i named "RZStar🌠" This logo is hidden of Rizoug Zeglache of them this hope you like it or Sky Approve my second logo. Today i make so more comic, arts or memes.
Like: Draw, Sleep, Videos, Watch the TV, Visits, Creates, Furries, playing on my 3DS,

Dislike: Deconnect, Alone, Annoying, Wild kids, Freaking logos, NSFW.
second account --->

My Friends list:









: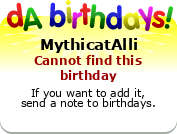 Art Statut







(The collab are rarely friends only or anyones loves)


Inspiration








Rules: Don't Steal or re-post my arts stuff and edit my arts without permission thank you.