February is almost over so it's time for another
plug
update!
Here's the preview for this month's Patreon rewards: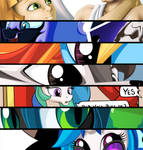 If you want to see these in a few days, head on over to
patreon.com/mysticalpha
and show your support by 2/29!
Now that that's out of the way, I'm actually slightly ahead of schedule for once so that leaves me time to explore other things, namely non pony things. I plan on doing more of that in the coming months so you'll see some furry and hue-mon stuff. Of course if you're only watching me here, you'll only see half of it because the more racy stuff is elsewhere. I'm also exploring other non pony stuff on that front as well. The let's draw videos are continuing and I want to post 1 per week, preferably right before the weekend. That means you may see me stream some of it during odd hours.
There's not much else that warrants writing about so I'll leave you with a question, aside from princess big mac and princess spike, which other canon character would make the princess cut from unusual circumstances that happened in the show (aside from the usual 4 I did earlier)? Yes, this will be a picture and I need 2 more characters.