Description
This picture is as weird as the episode which is just a wild speculation. I was gonna draw cute bats but that was before I googled them.
Applejack does not approve of Fluttershy's "precious"
Fluttershy: Sooo... hungry... *Creepily turns head towards camera*
16:9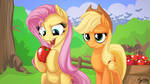 Do Not Use this Pic without Permission.

COMMISSIONS:
mysticalpha.com/commissions/

SUPPORT ME:
mysticalpha.com/support/

SOCIAL & LINKS:
mysticalpha.com/links/

FAQ:
mysticalpha.com/faq/
Image details
Image size
2560x1600px 907.92 KB
Applejack:,,fluttershy are you ok"
Fluttershy:,,i Just looking at this delicious apple "
Applejack:,, wait a second are you have fangs "
Fluttershy:,,(lying)no i don't have fangs "
Applejack:,,i know you lying "