Description
My own version of Nightmare Rarity. It is loosely based on the official.
16:9: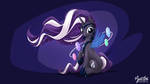 Do Not Use this Pic without Permission.

COMMISSIONS:
mysticalpha.com/commissions/

SUPPORT ME:
mysticalpha.com/support/

SOCIAL & LINKS:
mysticalpha.com/links/

FAQ:
mysticalpha.com/faq/
Image details
Image size
2560x1600px 380.34 KB

So gorgeous (albeit evil to boot)! I'm fascinated by the fact that the NightMare is able to give Rarity some very small wings in this form, though I can't say I dislike it by any means.