Previous: Next: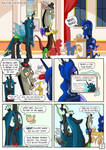 Day in the Lives of the Royal Sisters is a comic series following the activities of Celestia, Luna and more.
It is created in a simpler style and may be filled with popular headcanon and memes so you get to see the back alley of royal living.
Each page will be posted monthly until its part/season/final ending.
If you want to see future pages early, please consider becoming a patron at patreon.com/mysticalpha where not only will you get high resolution versions of this comic series, you'll get a wallpaper from one of the panels.



Do Not Use this Pic without Permission.

COMMISSIONS:
mysticalpha.com/commissions/

SUPPORT ME:
patreon.com/mysticbeta/
(saucy stuff/HIRES/early access)

ART PACKS:
gumroad.com/mysticalpha/

DISCORD:
discord.gg/wyGz8Fw

FAQ:
mysticalpha.com/faq/

Not everything is posted on dA (it's for safer works).

Go to twitter (/mysticbeta) if you want everything
Image details
Image size
955x1351px 1.01 MB