Description
barely...


Previous: Next: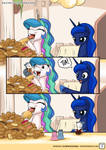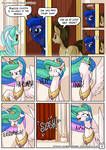 Day in the Lives of the Royal Sisters is a comic series following the activities of Celestia and Luna.
It is created in a simpler style and may be filled with popular headcanon and memes so you get to see the back alley of royal living.

Do Not Use this Pic without Permission.

COMMISSIONS:
mysticalpha.com/commissions/

SUPPORT ME:
mysticalpha.com/support/

SOCIAL & LINKS:
mysticalpha.com/links/

FAQ:
mysticalpha.com/faq/
Image details
Image size
955x1351px 1.11 MB

this is not how Tia a set Lulu to the moon, no Canon is powerful enough to set a pony to the moon, is the Element of Harmony, not a Canon, a Canon is war weapon destroy your enemy army... is still surprise me how Pinkie a turn one to a Party Canon but is still a weapon... plus all the joke of TO THE MOON is funny first but do it again and again is no longer funny, but some fan do again and again and do not see is no longer funny