Grow up so you can all help Big Mac.
16:9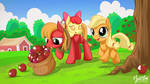 Do Not Use this Pic without Permission.

COMMISSIONS:
mysticalpha.com/commissions/

SUPPORT ME:
patreon.com/mysticbeta/
(saucy stuff/HIRES/early access)

ART PACKS:
gumroad.com/mysticalpha/

DISCORD:
discord.gg/wyGz8Fw

FAQ:
mysticalpha.com/faq/

Not everything is posted on dA (it's for safer works).

Go to twitter (/mysticbeta) if you want everything
Image details
Image size
2560x1600px 726.93 KB

Hnnnng so adorable! But! One small thing, fillies says that they are all girls foals would be the correct term. Sorry if this bugs you!