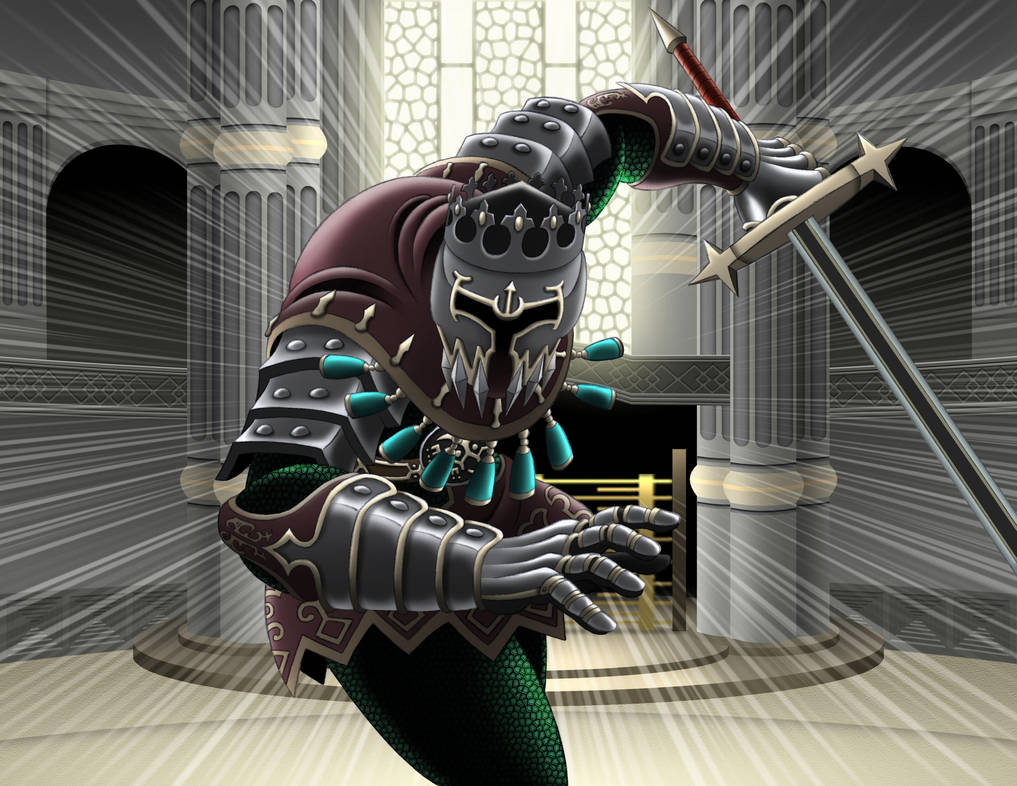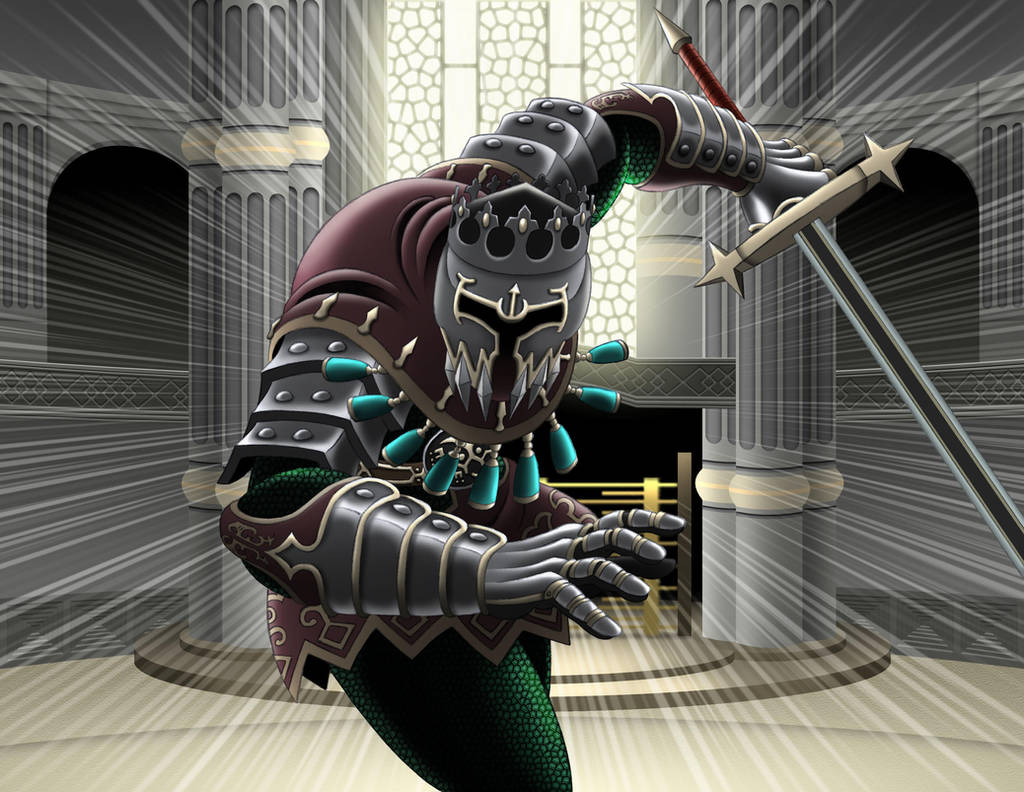 April 18th, 2014 - Won a $75 Award at 3rd Friday's Comic Book Illustration Gallery in Salisbury, MD for "Best Use of Form, Integrity, and Expressive Power."
This is my 2nd submission for the "Legend of Zelda: Link's Blacklist" Art Tribute.

Please feel free to look at some of the other artwork in this tribute. A lot of them are truly spectacular.
game-art-hq.deviantart.com/gal…
Here is the Game-Art-HQ article for my Darknut submission written by

:
www.game-art-hq.com/47696/link…
Ever since the first game, the Darknut has become one of the most formidable foes Link has ever faced. And my favorite example is the Darknut from Twilight Princess. Compared to Wind Waker's Darknut, both of them are fun to take on, however, TP's Darknut was even more fun for me because it was a lot more challenging and engaging in this intense swordplay combat. Both versions involve disarming the Darknut's armor, but TP's Darknut becomes even more dangerous once his heavy armor has been stripped. Without his armor on, his agility & faster swordplay rivals that with Link's. Also, what I like about this Darknut is that it serves as the perfect test towards the player's sword skills after learning all those secret sword techniques and therefore preparing yourself before your final confrontation with Ganondorf. In Wind Waker, you just need to Parry (basically a quick-time event/counter attack) and then attack the Darknut, making it easier than it looks.
Here's my other submission: Gohma (Wind Waker)
* Legend of Zelda's Darknut is copyrighted to Nintendo
OH GOOD GOD HE'S COMING AFTER ME

All joking aside, though, this piece is wonderfully terrifying. Like even as I write this critique, the fact that he's
right there
about to hit me in the face with a sword and everything really shows how well that charging look works. Motion lines usually ruin a picture unless used correctly, but good god, you used it correctly for sure because he looks like he's about to kill the viewer

This piece is absolutely awesome! I agree with what you said about Darknuts; they're certainly great foes but in TP they were my favorite enemies by far because of how challenging they could be (even when you got the hang of it! And don't even get me started on the final level of the Cave of Ordeals...) I think you really captured their agility and such in this pose--he looks ready to fight, and not just cause he's charging you, but because he's doing it in such a way that he looks like he knows what he's doing. I love the spread of the blue jewels below him and all the little details of his armor is very well done! I also love the background and it's lineless look in comparison to the lined Darknut.
There are a few things I think could be improved in some places, but nothing absolutely
TERRIBLE
--this is a really great, strong piece. If anything this is just me nitpicking, but the texture on his green clothing throws off the illusion of his 3D figure--it's not really bending with his limbs, and if it is, the dark shading makes it a little hard to tell

His left forearm, closest to the viewer, also seems a bit detached from the upper arm, especially since it goes over father than the upper arm. His helmet doesn't really look symmetrical as the right side of it curves a little too far inward, and if that was to show a tilt of his head, the rest of his helmet doesn't really support that. I also think this piece would benefit from using more color in the metal and maybe even the shading in general--your values are great, and I love how you paid attention to using the back lighting that the window provides, but the values are all just the same color only darker, if you get what I'm saying

Armor and metal in general often looks better when it has a little color to it, like some blues and purples, even just a tint. Considering how shiny this metal seems, it should show a bit of color reflection from the rest of the Darknut, like the blue jewels and the red clothing atop his shoulders, for example. I also think, while the entirety of his upper body shows movement, his legs seem a bit off to me--when a Darknut comes at you in the game, he sort of leaps toward you. I personally think his pose might look better in this piece if you have one of his legs extended and one folded, as though he did just take a leap at you. And if he's running, he seems more like he's striding since most of his body is facing to the right, which I don't believe really has the same effect as an all-out leap, though I'm not entirely sure

Finally, the bones of his fingers seem to extend way too far down his hand, in my own opinion; that little detail is a GREAT thing to add, but right now it seems almost as it if goes all the way down to the wrist

All in all though this is one hell of a great piece. There's really no blarring mistakes and it's easy to see you put some time into this, though I recommend you add a bit more color to the shading, if you could. You certainly do have a solid entry here though

Good luck!
The Artist thought this was FAIR
7 out of 7 deviants thought this was fair.
I showed this to a friend and he said this is proof a Zelda tv show be it anime or not can be done. One thing I like about Zelda is that it has a good mix of Eastern and Western designs going into it which to me is a charm of Nintendo. Here of course it is obviously western. To me the most impressive part of this piece is easily the chainmail. That must have took forever.

While I do prefer the visuals of the WW Darknut, you give this one such punch to it with the foreground. It caught my eye within a second of seeing it. Originality is hard but I'd say you gave this enemy new life with the dynamic picture. Really it shows us nothing new however about the enemy so I hesitate to give you a higher score in that regard.

On the other hand, the technique as I said gives this baby new life. The armor glistens and the cloth folds. You make the enemy intimidating as well as pretty to look at.

Keep up the good work sir.
The Artist thought this was FAIR
9 out of 9 deviants thought this was fair.